'Throw it away

because in no work, verse or prose.

Has anyone ever managed to say

what is, in essence, a rose'
Concessione by Giorgio Caproni, in Res Amissa, Garzanti, Milan 1991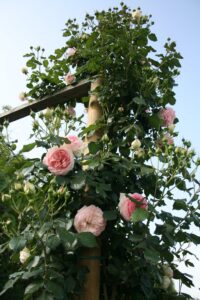 At the Il Roseto nursery with Luca and Sabrina the couple who own it with their long-time collaborators, Nike and Sabrina we go in discovery of the rose: the flower that would reign over all,  "if Zeus wanted to grant it a kingdom", in the words of Sappho, the ancient Greek poetess (Lesbos VII-VI century BCE).
In fact, at the Roseto we can also find hedge plants, fruit trees, olive trees, large trees and cypresses, as well as an extensive selection of seeds, vegetables, pot and balcony flowers and an infinite variety of aromatic herbs. One can also source compost, fertilizers and in fact everything needed for the garden, with attention paid to respecting the environment and using all-natural products.
Luca and Sabrina are passionate and competent people, qualified from their decades of experience in growing plants and able to advise on and help you design your own green space of any size, from a small house balcony to the large grounds of a villa, from a floral arrangement that gives a touch of poetry at the venue for an event, to the single precious gift of a rose.
And it is precisely the rose that shows itself off here in all its poetic and natural potential. There are more than five thousand plants here in at least three hundred different varieties, including climbers, large flowering, landscaping, damask and historic roses.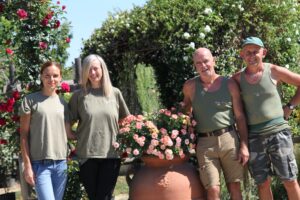 A visit to this enchanting place becomes a real celebration of the rose and an invitation to appreciate its qualities in the round: the colours, shadings and different perfumes, you can enjoy all this on the trail Luca and Sabrina have designed for visitors, a vie en rose full of delights and fragrances, which at the height of flowering surprises like a sudden caress.
Luca and Sabrina have the distinction in fact, of being direct growers for the most prestigious rose nurseries in the world: Barni, David Austin, Kordes, Tantau, Meilland, Nirps and Poulsen. 
The rose has been revered since ancient times and remains the symbol of love, beauty and elegance par excellence, as well as of complex secret wisdom since it is embodied in a vast symbolism including meanings that completely contradict with each other: virginity and fecundity, life and death, time and eternity… perhaps to teach us how we can, after all, appreciate similarity in opposites!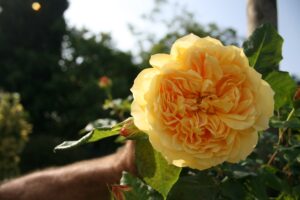 The invitation that we accepted and that we are redirecting in our turn is therefore to surround yourself with these marvellous plants, let yourself be intrigued by the millenary symbolism linked to their colours and forms and be guided in choosing those that best suit your taste, savouring the complexity of nature and at the same time its simplicity by cultivating our gardens, both those inside and those outside of us.
Recommended listening: "Con una rosa" di Vinicio Capossela 
Info: "Il Roseto" nursery, Loc. Le Lame, Barberino Val d'Elsa (Fi) / Cell. 338 2037431 (Luca) / 393 8228324 (Sabrina) / info@vivaioilroseto.it / www.vivaioilroseto.i t/ Facebook: @VivaioIlRoseto