A farm and vineyard with a long history and excellent wines. Added to by the presence of a boutique-style agriturismo and a new generation restaurant, headed by Chef Jacopo Monni. We meet the owner, Amedeo Cencioni, who shows ValleyLife, and ideally its readers too, around the enchanted world of Capanna. A splendid place to relax and enjoy nature and nature transformed by the hand of man.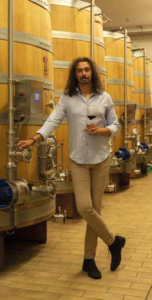 A bit of history. When did you start up here and which are the agricultural products you are most proud of?

The farm is in Montosoli, north of Montalcino: our business goes back to 1957 when my great-grandfather Giuseppe Cencioni bought the farm and then the whole family moved here the following year. The work is focussed on the cultivation of vines, olives and other arable crops, and has continuously developed over the years: just think our newest Sangiovese vine was only planted this March. Today the estate encompasses 65 hectares of which 25 are under the viney and seven are olive groves, and the name Capanna is known above all in the world of viticulture. We are honoured to be one of the oldest Brunello families, with the first wine bottled in 1964: we belong in fact to the group of twenty-five founding wineries of the Brunello Consortium. Over the years we have built up production and created our sales network: we are now present commercially throughout Italy and export to countries on every continent.
Let's talk about your new restaurant: Il Passaggio [The Passage]. Why this name, and what are your top specialities?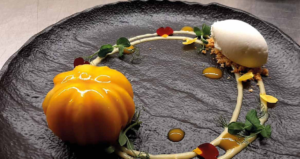 The restaurant was inaugurated just a year ago, in spring 2019. The name comes essentially from two intertwining elements: first of all our location that constitutes, in every possible way, a 'passage' into the Val d'Orcia and then as a doorway through which the guest finds themselves undergoing a 360° sensory, food, wine and spiritual experience by entering the Capanna universe and its surrounding landscape. The chef, Jacopo Monni, expertly leads a kitchen brigade made up of young people who have had serious career stages in top class restaurants. We have thirty seats and the tables are spread over two rooms, an internal room and a panoramic veranda and we can also accommodate customers outside. Chef Monni has already developed the new menu, which will be available from the next reopening, and many surprises are planned: for now, I will reveal only the names of one first and one second course: Macaroni Martelli, tomato confit, tomato, black cabbage, artichokes with blue mousse and PGI Tuscan lamb with herbs, red fruit chutney and roots. Another star turn at our restaurant is the sweets selection, from the acclaimed pastry chef Loretta Fanella.
Yours is a top-class agriturismo: tell me about the special styling and the kind of luxury that guests can find there?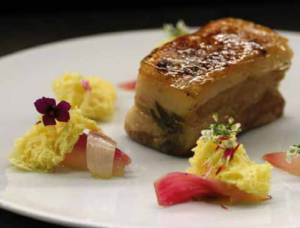 We opened the Capanna Suites less than a year ago in July 2019. This is something the family very much wanted and the idea goes back quite a while. The rooms and apartments – of various sizes – are defined by a Tuscan chic style, each with a different decor, from the flooring to the furniture and accessories, with the common denominator being high aesthetic and functional value. The amenities, available in all the rentals, include, among other things, a wine cellar with Capanna wines, a mini bar with Tuscan drinks, a coffee and herbal tea machine, and a courtesy kit. The wellness centre available to our guests boosts the offering with its sauna, Turkish bath, emotional shower, and swimming pool with whirlpool.
Capanna is known above all for its wines: what about their special characteristics, the types, and what gastronomic combinations do you suggest?

The history of our family is intertwined with that of red wine, so we should start with Brunello di Montalcino DOCG, which, in vintage years, is also produced in a Riserva version: in addition to the classic combinations with game or Florentine steak, we recommend it as a wine for meditation. Rosso del Cerro (Rosso Toscana IGT) is well suited to appetizers and the soups and minestrones dear to Tuscan tradition, such as the legendary ribollita. The Rosso di Montalcino DOC is much more structured: perfect for enjoying together with Tuscan liver crostini, appetizers of salami and cheeses, and first courses such as pici with ragù sauce. Then there's Sant'Antimo DOC, of which we produce both red and white varieties and which combine well, respectively, with fine steaks or baked fish. With white meat main courses, the white SanGioBì is delicious, produced with 100% Sangiovese and it's a wine I am especially fond of. We then produce the sweet and 'tranquil' [non-sparkling] Moscadello di Montalcino DOC, in reality the oldest wine in this denomination, dating back to the mid-1500s: excellent with biscuits and ice cream; and finally a Vendemmia Tardiva [Late Harvest], which, in addition to the combination with sophisticated desserts, is enhanced with cheeses.
What are three words that summarise the philosophy of your business?

The first term would be 'tradition': we are proud to be Italian and to belong to a country that, precisely by virtue of its history, has come up with top quality products in every sector, through a combination of tradition and creativity. The second concept we care about is 'respect for the territory' in a double sense, intended as both awareness of the heritage that has been handed down to us, and as personal and professional behaviours to follow in respecting the environment and protecting nature. The third is 'passion', because only if you are animated by a deep passion can you give your work a value that really makes the difference, for us and for our clients.
by Vittoria Bichi Ruspoli
photos by Tommaso Awerbuch