This time I will not say very much about my friend Alessio Panarese who, fraternally, every time we decide to meet, guides me on iconic and completely impromptu adventures among the fields and slopes of the Val d'Orcia. But that's just my idea: he knows exactly where he's taking me. His relationship with this land, unequalled in its harmony and beauty, belongs to a subtle intuitive knowledge, to the visceral, unreasonable and never mediated world of feelings and passions.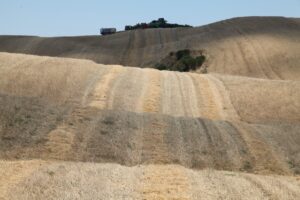 The Val d'Orcia, has been for centuries a valley that is the temple of durum wheat: with its clay soil and its hot summers here a wheat of great excellence grows, whose flour is mixed with the pure water of Vivo d'Orcia, on the high spurs of Monte Amiata. 
"I make the best pasta in the world," he told me one day when we hardly knew each other. I immediately took to this seemingly arrogant but certainly forthright spirit: if certain unique and universal geniuses in the history of art and culture have been born (and continue to be born) in Italy and in Tuscany, there is a reason. And together with biological, climatic and cultural factors there are certainly contingent facts related to the way of eating. A plate of pasta brings with it a charge of deep and rounded pleasure due to the concentration of starches, over 60%, which stimulate the production of endorphins. Pure enjoyment."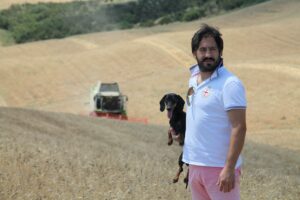 Pici are certainly the most representative type of pasta, the only kind from their very beginning linked by name and tradition to the Val d'Orcia lands; being drawn through bronze, rough and porous make them the perfect basis for all types of home-made sauces: "I started out as the biggest producer of Pici in the whole world, it's a fact," he says, laying it on thick.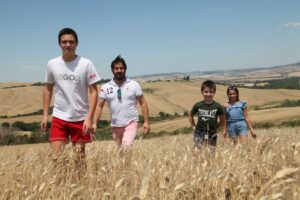 Time and passion led him to develop other varieties in the two main production lines: the classic one which, in addition to the pici, includes tagliatelle, pappardelle, calamarata, conchiglioni, fusilloni, Tuscan lilies, linguine, half sleeves, paccheri, penne, pennoni, rigatoni, stracci, spaghetti alla chitarra and Orcia spaghetti  –  and the egg pasta line (durum wheat semolina and 30% fresh eggs) with pappardelle, tagliatelle and tagliatini.
Which cut of pasta are you most attached to? "All these varieties were conceived and raised like children (of actual children Panarese has three, and we photographed them with him for these pages), so it is impossible to say. The good that one wants for one's children is in fact immeasurable and indivisible.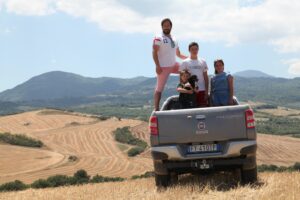 Info: PastaPanarese, Loc. Gallina, Castiglione d'Orcia (Si)/ Tel. 0577 880233/ www.pastapanarese.it/ info@pastapanarese.it