by Jori Diego Cherubini
There is a Tuscan oasis of sound and colour and it's called Kartika. A nightclub that is futuristic in its every detail, with the added value of being run by (smart) people. In particular by Gaia and Alessio, with the expert guidance of father Paolo, who has made a whole lifestyle out of venue management. Brand new and perfectly curated the Kartika is also set in a forest of centuries-old chestnut trees, in the centre of Santa Fiora (the Amiata town that belongs to I Borghi più belli d'Italia ['the most beautiful villages in Italy': a guide book tr.]).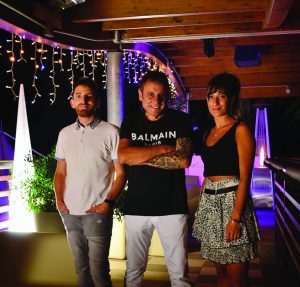 Entering one plunges into amazing sensory dimensions, in the visual aspect —  with the gaze lighting now on the palm trees, now on the bamboo canes, producing a subtle and exotic aspect — and on the sensory/sound aspect: with today's hits from the best DJs in circulation. It exudes a metropolitan club atmosphere. Everything is brand new, from the lighting rig to the sound system ('drip-fed') to the incredible LED wall (with the latest generation large screen measuring six meters by three). Hot rhythms (and danceable as soon as the rules allow it) for memorable evenings.
You can reserve a table with friends and spend an evening or a night in their company. As soon as you arrive at the place you are greeted by stewards, you receive a 'fish' and you decide what to drink: from the most popular bottles, such as Gray Goose (up to 6 litres!), Champagne and Franciacorta, to excellent still wines, white or red, or drinks like Spritz and Mojito: order with the waiter and the bottle arrives in a few minutes.
Gaia and Alessio, as mentioned, form the deus ex machina of Kartika: "We have always been passionate about clubs — Gaia tells me full of enthusiasm — as soon as I returned from London where I lived for several years (singing in a rock group, ed.) I fell in love with this place, and with the help of my father Paolo, Alessio, and many other really smart guys, we made this dream come true". And the dream, now a reality, has conquered hundreds of youngsters who meet at the Kartika tables on weekends to get to know each other, joke in company and fall in love.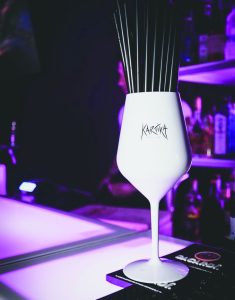 "We have become a real meeting point for young people who live across a very large area, including Mount Amiata, Chianciano and Montepulciano, but also Siena, Grosseto and the north of Lazio: many people show up and once they have discovered the place they always come back, because you can relax completely, and forget about everything else for a night." Speaking of night: it is one of the few places where you can stay till four in the morning: "And parents —Gaia assures me – don't worry because we actually provide a shuttle that takes the kids home to the surrounding villages, sometimes as far as Chianciano and Montepulciano."
Fundamental to the great success of every evening at Kartika is the staff, made up of a dozen people. In addition – of course – to the music: Alessio himself, an expert on the subject, is the one to choose the DJs: "Only the best around – he assures me – they must have a track record of years on the scene, and we attach great importance to our resident DJs." But not just commercial music: "sometimes we host underground, house, 70s and 80s evenings, and feature names of national and international calibre (we have hosted artists such as il Pagante, MTV events, Nausica, Jas & Jay and many others) and always with an excellent response from the public, a clear sign that people, today more than ever, want to have fun."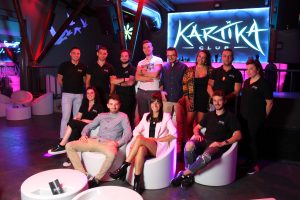 You can also eat at the  club (sandwiches, schiacce, donuts, hot dogs and wraps). A side of things of which Gaia, Paolo and Alessio are very proud is the welcome they have received from the town: "it was really warm – Paolo emphasises – considering that it is a place so closely linked to Santa Fiora (for decades it was called Serenella), we are happy with how the people of the area have welcomed us, but also the parents, the police, and the administration that gave us a lot of help (mayor Federico Balocchi is a regular), but ministers have also been here, and recently the governor of Tuscany Eugenio Giani. This is a 100% safe place thanks also to the work of the security staff." As for the future: "we want to develop the venue and improve the beautiful terrace, creating a dedicated soft private room for an older demographic". The restaurant, pandemic situation permitting, will be open in all seasons.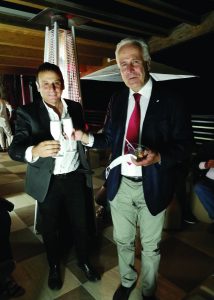 And for the autumn-winter? "We have important news." Kartika, by virtue of the qualities listed above, was included at 27th place in the top 100 Italian clubs. A place that nevertheless lends itself to press presentations, events, birthdays, graduations, weddings, ceremonies… in short, a truly limitless venue. "It was all possible thanks to my father Paolo Scevoli — concludes Gaia — who supervises, advises, creates (from the audio system to the lights), transferring experience and passion to help everyone. Dario and Giada are the partners of Gaia and Alessio respectively and are also committed to supporting the project. Djs, vocalists and bartenders change round from evening to evening. And whoever comes to Kartika knows that every night is different from the next.
Kartika Club. Via San Rocco, 25, Santa Fiora (Grosseto). Info: 339/5363470. Instagram, Facebook: Kartika Club