by Valentina Piccini
A break during the holiday season "Dal Grigino", where land and sea meet in the sign of tradition.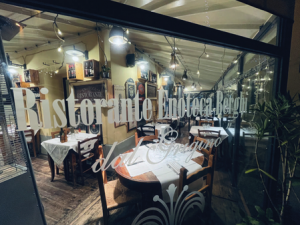 You can see it as soon as you cross Porta Fiorentina, the ancient entrance of the city of Borgo Sansepolcro: the "Restaurant Enoteca Berghi dal Grigino", with the characteristic déhor, welcomes you in the historic center for a break full of conviviality and taste.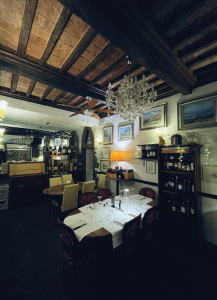 In the beginning it was "il Grigino", which in the mid-1920s gave refreshment to fellow citizens and foreigners with its characteristic gray hair. Today the Berghi Restaurant is run by his great-grandson Andrea, accompanied by his big family: his son Giacomo with his partner Nicoleta, a very good cook, his brother Silvio, his partner Elisabetta.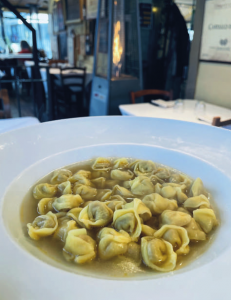 The atmosphere is familiar and informal, but also extremely elegant: the beautiful veranda on the course of Sansepolcro during the Christmas holidays is adorned with lights, the atmosphere is even warmer, there is the desire to take a break from the working rhythms and enjoy a typical Tuscan appetizer, a good wine, a cut juniper and rosemary… But also a cod and shrimp difficult to find in the other restaurants in the area, because the cook Nicoleta has a great skill in cooking fish and in combining its flavors with those of the Tuscan tradition.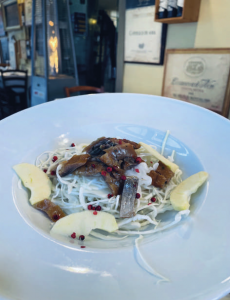 Whether it's a romantic dinner or a lunch with friends and family, this restaurant is the right choice: excellent quality/ price ratio, view on the main street of the city, refinement of the environment with art exhibitions that alternate in the various periods of the year. And then the food, of course: the "tartare del Grigino" meets with truffle, which comes down sweet to flavor homemade pasta and second courses, the Tuscan patè and the typical meats are dampened by vegetables- try the escarole in the pan with olives – The sweets of the cook delight the palate and open the way to the Tuscan cantucci.
Speaking of tradition, as every year the Enoteca Berghi also for this 2021 provides a New Year's menu that will accompany its customers towards the new year with typical foods (see the lentils, which can not miss), but also with many surprises in the name of taste!
Finally, let's not forget that the restaurant enoteca Berghi is also a pizzeria, personally adored by my children and offers a rich menu of pizzas cooked in a wood oven and prepared with top quality ingredients. The slow leavening ensures excellent digestibility, while the fillings range from the most classic, up to fish, seasonal vegetables, truffles and porcini mushrooms.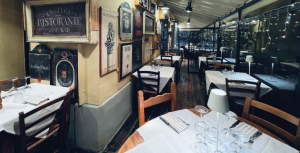 Do you love wine? Elisabetta and Andrea are constantly looking for the best wines in the Arezzo sector, without forgetting the great classics!
Info: Ristorante Enoteca Berghi "dal Grigino", Via Giordano Bruno 45 – Sansepolcro (Ar) / Tel. +39 328 4871361 / E-mail: info@ristoranteberghi.it / Giorno di chiusura: lunedì