BY SIMONE BANDINI
Placed 'like those works made from above' on the hills between Grosseto and Montiano, the Belguardo tenuta [estate, ed.] overlooks the sea from halfway up the coast and turns its back on the last mountain ramparts of the Tuscan hinterland. We talk to CEO Francesco Mazzei about this fortunate spot, cherished by both nature and man –  which today, with its thirty-four hectares of specialized vineyards, is certainly one of the most representative wineries in the area.
Native vines such as Sangiovese, Alicante and Vermentino and international vines such as Cabernet Sauvignon, Cabernet Franc and Syrah, planted at an average altitude from 50 to 180 meters above sea level, facing south-west, rooted in soils with a high presence of 'skeleton' –  with alberese-type rock and sandstone. It is the breath of the Tyrrhenian Sea that stimulates the magic and complexity of these wines: the Belguardo Tirrenico Maremma Toscana DOC, the Tenuta Belguardo Maremma Toscana DOC, the Belguardo Bronzone  Morellino di Scansano Riserva DOCG, the Belguardo Codice V Vermentino Maremma Toscana DOC, the Belguardo Vermentino Vermentino di Toscana IGT and finally the Belguardo Rosè Toscana IGT.
VALLEY LIFE: But what is the favourite wine of Francesco Mazzei, the one that he feels most strongly about?
FRANCESCO MAZZEI: Definitely the Codice V which is really my baby: a high-level Vermentino, with a very long laying on the skins in amphora, I don't mean 'technical' but complex… a white with a tendency towards the reds with which it shares good structure and longevity.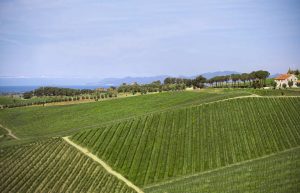 VL: What is it that binds you to the Tenuta del Belguardo? Can you tell me something about your personal and professional history with it?
FM: It's a place I really care about, an acquisition I made with my brother with conviction and passion. We have a very long family history in Fonterutoli: but taking a step outside Chianti was a move in which we strongly believed. My love is therefore rather special: it was not a success that came about through divine grace but because we worked very hard.
VL: What is the Maremma for you, what place does it occupy in your life? How would you describe this area?
FM: The Maremma has an extraordinary importance for me from a personal point of view – my wife, a Florentine like me, has had a family property in the area for over a century and we have a house there where I often go and where I run away to when I can! I have always loved the Maremma for its wild, unpolluted nature, its sea – it's an extraordinary place in all its variety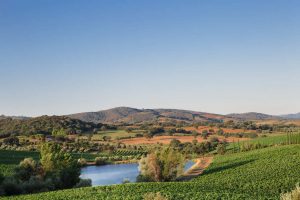 VL: The phenomenon of guided wine tours has grown a lot in recent years. Just a fashion?
FM: I wouldn't say so. There are countries that have a much younger wine history than ours but that have built up wine tourism for decades, it's a movement in constant growth. I am referring, for example, to the Napa Valley in California… wine tourism was decisive for bringing producers closer to their consumers. A phenomenon that will grow and grow.
VL: Chianti, the Maremma and Sicily. They have a very important presence as classic Italian wine areas. How do you see the future of the Mazzei brand?
FM: It's time to consolidate and grow our three wineries –  we've given them a good foundation. Then we'll see, maybe we'll come up with something else; we're already headed towards a very interesting future by virtue of the entry of the latest generation: I have two grandchildren, Giovanni and Lapo, who are bringing with them energy, sincerity and new ideas. I am very optimistic.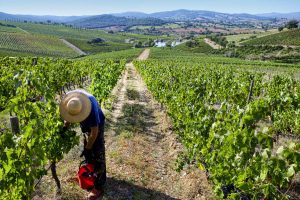 At the Tenuta di Belguardo, in a typical Maremma house, with a panoramic view of the sloping vineyards and the sea, there is a well-kept wine cellar with tastings of wine and Extra Virgin Olive Oil made with native olive varieties.
In Tuscany's capital Florence the Osteria Belguardo – famous for its Florentine steak – is well worth a visit, you can also try their Steak tartare, their knife-cut Cinte Toscane, fresh fish and Osso buco alla Milanese all in happy combinations with the Mazzei range of wines.
General info: Marchesi Mazzei Spa Agricola, Via Ottone III di Sassonia 5, Loc. Fonterutoli/ Castellina in Chianti (Si)/ Tel: 0577 73571/ mazzei@mazzei.it/ www.mazzei.it
Belguardo Estate and Enoteca: Loc. Strada di Monte Bottigli, Grosseto/ Tel. 0564 406003/ Mob. 347 3311992 /enoteca@belguardo.it/ Opening hours: Monday, Wednesday, Thursday, Friday, Saturday from 9:00 to 13:00 and from 14:00 to 18:00. Closed on Tuesdays. Sunday by reservation only.
Osteria Belguardo: Piazza Degli Scarlatti 1R/ Florence/ Tel. +39 055 2654541/ firenze@osteriabelguardo.it