BY DARIO MIGLIORINI
Passion is the feeling that drives life, which urges us on to action: it is oxygen for the soul. And it is precisely this determination that moves Massimiliano in his daily existence, ordinary and extraordinary at the same time. A philosophy of life that you can clearly see at his Votapentole, an iconic restaurant in the heart of Castiglione della Pescaia.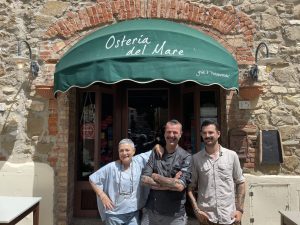 From an early age he worked with commitment and energy in the family tavern, Il Votapentole. With enthusiasm and stubbornness he studied, observed, experimented and tried to take in every little detail that could somehow help him grow. He started working in the dining room, then moved on to the kitchen and this is where the real challenge began. Flanked by great chefs, he tries to learn the techniques and secrets of the best dishes by trying to create his own signature first courses.
His enthusiasm pushed him to continuously expand his knowledge; he did a turn at various local and national restaurants and dealt with different realities. He abandoned meat dishes to start cooking fish, moved his restaurant to the centre of Castiglione della Pescaia and, together with his wife Monica, started up the Votapentole. The two, however, haven't turned their backs on the past – the result of so much hard work – and their restaurant becomes the Osteria del Mare formerly Votapentole, thus retaining its old name. A significant act clearly intended to bring the charisma and fame of the old restaurant into the present.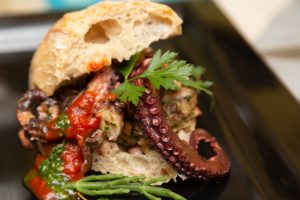 Massimiliano, together with his whole family, has a great project: he wants to reinterpret traditional dishes, while always adding a personal touch to each of his creations. So that these become a unique and all-encompassing experience, able to perfectly blend history and the current moment. Hic et nunc.
A desire that arose from his tough apprenticeship, from the experience acquired over the years and above all from the desire to keep up with the times. The restaurant has updated its dining space with attention to the smallest details; a hospitable place that welcomes a broad, varied clientele.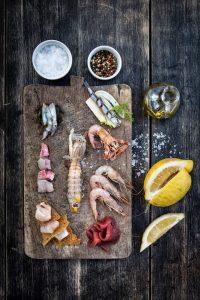 They have decided to follow a new approach, with food offerings in a more modern key – albeit even more anchored to tradition – dishes cooked with simple regular products of the very highest quality. They have let go sophisticated gourmet cuisine and begun to work with ingredients such as tuna, blue fish, croaker and snapper. They feature unique yet popular dishes that meet the approval of a wide range of patrons.
Son Guglielmo has made a great contribution to this phase of renewal.  He is a passionate fisherman famous in the village for his boat trips and thanks to his (real) knowledge of the sea he has been able to introduce raw fish to the menu, being able to expand the fresh catch in the best way.
Adopting a sort of transgenerational tradition, they return to the driving force of their present without distorting their identity and what has always characterized venerable Italian cuisine. Today, to use a contemporary term, they have switched to their "smart" version.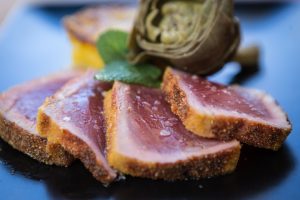 And so unique dishes emerge such as Black Linguine cooked in Mussels Impepata, with Pecorino and Frigitelli, Octopus Lampredotto, Panini with Tuna Porchetta with Beans and Onions and Blue Fish Meatballs with Matriciana. Their ideas takes shape and substance and are immediately appreciated and enjoyed. It can only culminate in great success. In 2011 they won the Gambero Rosso 'Innovation Award' and ranked in the top places among the Best Restaurants in Italy for professionalism and quality, subsequently winning the Bib Gourmand.
In addition to their delicious dishes you can certainly taste excellent wines here with over one hundred renowned wine and spirit types and you can also indulge in special desserts like Dark Chocolate and Peach Crumble.
In summer the Osteria is open only for dinner –  while in winter it is also possible to have lunch. Closing day is always Monday.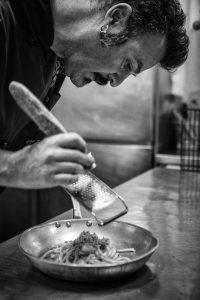 In every season, however, the togetherness and strength of this family never fails to deliver. And it's a real pleasure to see them at work!
Info: Osteria del Mare già Votapentole, Via IV Novembre, Castiglione della Pescaia (Gr)/ Tel. 0564 934763/ www.osteriadelmarecdp.it