BY DARIO MIGLIORINI
We're in Grosseto: on a glorious sunny day we meet a smiling Mauro Marchetti who opens the doors of his office and tells us the story of his 'baby': Edilmark.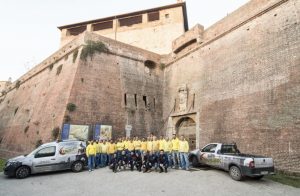 The Edilmark company is an important player in the panorama of Grosseto construction companies: founded in 2000 on the initiative of the then employee Mauro Marchetti, its history speaks to us of a beginning made with enthusiasm and great sacrifices.
From early morning to evening Mauro worked on construction sites; then he ran home, took a quick shower  ̶ and went back to the office to 'invent' other jobs  ̶  or he shut himself up in the old HQ building for accounting operations.
So he realized that a business could take off  ̶  and in fact that everything was going quite well  ̶  and he started to think big! He decided to enter into partnership with Alessandro and they had years of great success.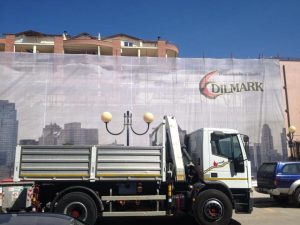 Then in 2008, Alessandro left and two other partners joined: Roberto Brunacci and Simone Palanghi.
The workforce, of their own volition, all stayed with Mauro  ̶  given the strong bond of trust that had been created.
The three, inspired by the principle that "Working is doing useful things", formed a fierce and winning team starting from zero but which, over time, has become the leading company in the construction sector in Grosseto.
Currently there are five members, including Mauro Marchetti and Simona Lecchi..
From handmade terracotta tiles for private individuals to the most innovative resins for large companies, Edilmark is a very versatile company: "We can work on major restorations such as castles or venerable villas but also in small homes or condominiums, we actually work 'in the round'", they tell us.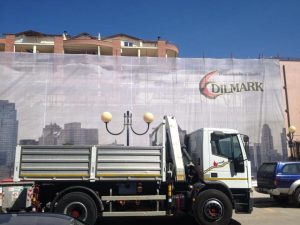 Today, thanks to the commitment and strong determination of the partners, the company has a team of about thirty people and has carved out a prominent place in small business history  ̶  and it's our small businesses that have made our country great.
All work with the same purpose: to build and offer services  ̶  and all are highly qualified and experienced under administrator Mauro who, having a great experience as a worker, manages to be a good 'family man' for everyone.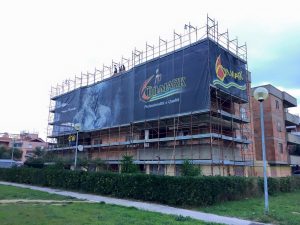 In addition, the partners, Roberto, Simone and Marco, are professional and attentive surveyors – while Simona looks after administration and accountancy; their close collaboration and coordination has always contributed to the balance and success of Edilmark. Over the years the company has grown by specializing in works of a strong innovative character, ranging from reinforced concrete to particular jobs such as decorative finishing and insulation projects; for private clients and public clients, from small renovations to large works. Hundreds of works and renovations have been undertaken in Grosseto and in the province: walking around the city it is not difficult to come across their gigantic logo affixed to their ongoing construction sites.

To give some examples, in Castiglione della Pescaia alone they were the architects of the restoration of the hotels Roma, Aqua, Lucerna and Approdo. Work will start shortly also at the Miramare hotel. Continuous updating of skills and the constant search for innovative solutions have led Edilmark to redefine the very concept of local builder.
The company has been in possession of the SOA Cat. OG1 Class certification since 2004 II and, since 2013, the UNI EN ISO 9001: 2008 certification .
Info: Via Monte Rosa 38, Grosseto/ Tel 0564 462025/ info@edilmarksrl.it/ edilmarksrl@per.it/ www.edilmarksrl.com