by Simone Bandini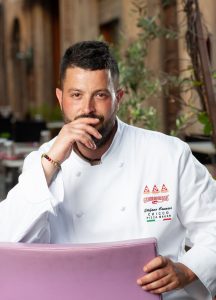 We look into each other's eyes, we understand each other immediately, since we come from the same land, Valtiberina. My meeting with Stefano Canosci awakens in me the sacred fire of belonging. Finding it here in Colle di Val d'Elsa in its award-winning "Chicco" pizzeria reminds me of my own experiences, of 'colonization' and 'conquest' of other territories. Talking about his pizza, in these pages, is an act of fidelity and friendship.
He has been here in Colle for twelve years now: actually "Chicco" is the name of his English bulldog – who is still doing quite well – who arrived in Stefano's life at the very beginning of his story here in the city of Arnolfo di Cambio.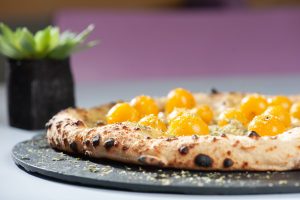 Chicco's pizza is – in all the forms we will talk about – absolutely unique and impossible to find, you understand immediately; he is so at sight and at the bite, in an intuitive and immediate way. It is worth mentioning here, for the record, the latest awards: "Tre Spicchi" in the Gambero Rosso "Pizzerie d'Italia" Guide (2021-2022) and the special award as "Best Italian Pizza 2021"; present in the chart of the "50 Top Pizza" in the world and reported in the "Espresso Guide" among the best pizzerias in Italy.
"When I think of my pizza I think it is a revolutionary gesture, an avant-garde code, which is projected into experimentation and into the future – whether it is 'classic' or 'contemporary', fine pizza 'Tuscan style' rather than fried calzone of Bourbon memory", this is how he defines his concept of 'gourmet' pizza.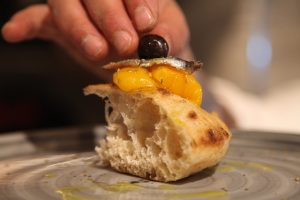 His professional and personal mission is very clear, universal: "I work so that 'Chicco' is the place where different habits, inclinations and styles meet and anyone can benefit from them, following their own nature and tastes". A temple of pizza, an ecumenical 'knowledge', 'religious' in the sense that it unites, speaking in the most profane way I know!
On the other hand, I immediately understand his cosmopolitan character when he tells me about his travels to the black continent: a place he started wins the award for "Best Pizza in West Africa", in Senegal, with the famous "Pizza Amore Dakar"; then in Sierra Leone, in Freetown, he participates in a mission of Pope John XXIII to help with difficult childhoods and work welfare; finally in Kenya, in Diani, he makes the Swahili recipes of the coast his own and proposes them in a well-known international restaurant.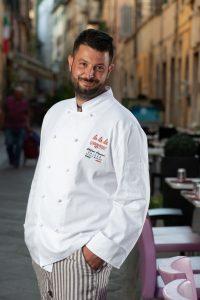 "I like exotic places. My travels are aimed at gaining experiences and gaining knowledge which I then promptly transfer into my work", he specifies. Here we can tell the birth of the 'Scrocchiarella' – which we will taste on time tonight – in the Mauritius Islands – this time we are in the archipelagos of the Indian Ocean: "They brought me this pizza that looked really bad, fine and cut into wedges, served in a deep dish large, a truly grotesque combination".
The recovery of positive values ​​from imperfect experiences is precisely his philosophy of life, against the tide: "As happens in this false democracy served on a silver plate, a metaphor for a two-faced and standardizing globalized political world". There are no great secrets: "The pizza, like the people, always feels the master's hand".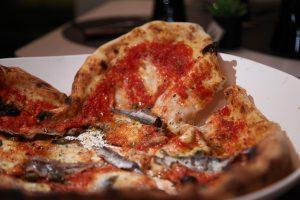 In truth, and it is not a mystery, Stefano Canosci is today Brand Ambassador in the world for the "Molino Le 5 Stagioni Agugiaro & Figna" of which he shares the desire for change and recovery of tradition, environmental sustainability and a strong family identity – which it establishes 'human' and grateful business relationships with its suppliers and customers.
In his glorification of pizza, the last dream left is perhaps that of "Chicco on the Road", that is to travel while working: "Also this year, in winter, I became the delegate of an important event; we were always in Mauritius with other Italian brands in the 'food' sector, precisely in the large shopping mall of La Croisette, in Grand Baie.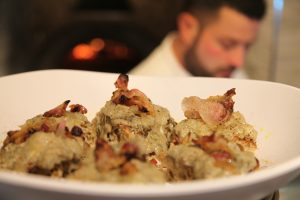 let's get to the tasting that was dedicated to us: we start with the curious, opulent, speciality of the pizzeria, that "Scarpetta" which refers to the same all-Italian custom, made with 'Authentic Integrated Grinding Flour' from the famous mill mentioned above .. Our 'scarpetta' (small shoe) is with "Pecorino fondue, nduja, crispy bacon and pepper powder" and is an extra-menu, recurring in the restaurant that follows the best of the market. Large and baroque alveolation, it seems that it opens and closes like an accordion, perfectly absorbing the 'sauce'.
We continue with a "Scrocchiarella Napoli Dop" with PachinEat datterino tomato sauce, mozzarella "Caseificio il Casolare", anchovy fillet from Sciacca Turturici hand-boned in olive oil, Sicilian capers and fresh oregano from Grotte: a joy for the hands in eating it, persuasive, enveloping and fun. The inspiration: "One evening I overheard a guy tell his wife that 'she liked thin pizza'!"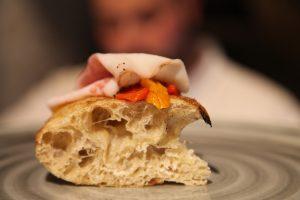 A super dough for this revolutionary and versatile one.
With the start of the season, his pizzas will also be baked at Relais Chateaux Borgo Pignano in the scenic countryside of Volterra, thanks to an agreement with Chef Stefano Cavallini, the first Italian Michelin Star abroad.
Info and reservations: Wood-fired pizza and "Chicco" cuisine, Via Garibaldi 35 / A, Colle di Val d'Elsa (Si) / Tel. 0577 921776/339 3557053 / www.chiccocolle.it