BY SIMONE BANDINI
There is a place in Umbria that deserves to be spoken about: because that is precisely what we do when a place where we have lived has remained in our hearts. Our beloved memory today concerns beautiful Borgo di Celle: we cannot help but sit dreamily and full of expectation, perhaps in good company, and evoke the exclusive ambience of this magnificent little centre near Città di Castello, now splendidly restored and recovered from past decay. Here we have the distinct feeling of returning to life as it once was, of miraculously travelling back in time.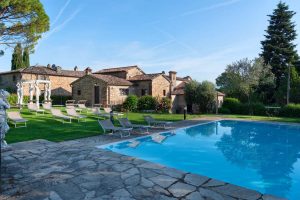 Visiting the Relais di Borgo di Celle is really something wonderful, as is its magnificent panoramic location – majestically dominating the Upper Tiber Valley from the top of its high view point. It's located in the north of Green Umbria, a stone's throw from the Tuscan border. Il Borgo today is a coveted wedding location thanks to its beautiful and spacious scenic terrace – but also for the sophisticated and well-run restaurant and the pleasant intimacy of its fabulous Wellness Centre – where you'll be looked after to the max.
A 'journey through time' is precisely the slogan that stands out on the Relais website: the history of Borgo de Celle is rather fascinating and grabs the visitor's attention, inspiring an imaginary journey retracing the facts, anecdotes and legends that mark its centuries-old history.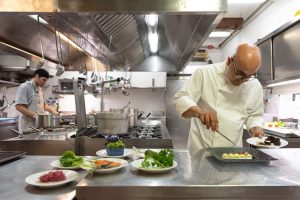 The events of this pleasant and bucolic townlet are engraved in stones set in the walls of its buildings: the 'Celtic Wheel', the 'Templars' Cross' and the 'Lily of France' are all perfectly visible and testify to the historical occurrences that have transpired here. Today Borgo di Celle, immersed in and perfectly integrated into the surrounding nature is an up-to-date venue completely devoted to hospitality services –  and it certainly has for itself a rare corner of the terrestrial paradise.
Il Borgo welcomes its guests by offering them tranquillity and calm: the restaurant produces a 'Wellness Dinner' every evening, with combined entrance to the Spa and the heated swimming pool – which are located inside the well-kept wellness area. Yes, because 'dedicating oneself to oneself' is a categorical imperative here. There is also a sauna, Turkish bath and whirlpool with relaxation area and one can request a professional massage. Then there is also a magnificent second outdoor swimming pool overlooking the surrounding hills where guests can indulge themselves on hot summer days.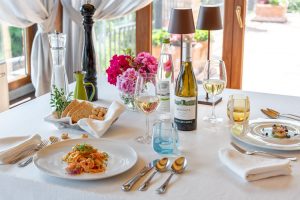 The restaurant is open every day and always offers an à la carte menu. The chef provides classic Umbrian cuisine using only the best fresh seasonal products, carefully selected and of the highest quality. Each dish is beautifully prepared and designed to bring out local aromas and flavours – brilliantly accompanied by an impressive wine list, drawn up by professional sommeliers.
It is easy to see how the fun and joyous combination of restaurant and spa allows visitors (including locals) to the Relais to have a complete, regenerative experience, with traditional gourmet cuisine alongside taking good care of their psycho-physical balance. The Borgo di Celle staff will solicitously advise you on the gastronomic and wellness itinerary that best suits your requirements.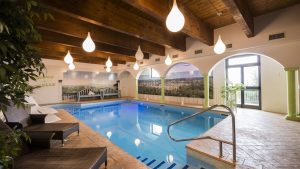 The outdoor terrace of the restaurant is ideal for ceremonies or private events and enjoys a wonderful and over-arching panorama. At night the view of the valley lights is truly impressive.
The Relais has become a prestigious focal point for weddings, much appreciated by both local and foreign couples: the versatility of the venue lends itself to organizing wedding banquets both on the panoramic terrace or right in the village square and to stage a reception unique of its kind.
Info: Borgo di Celle, Loc. Celle 7, Città di Castello (Pg)/ www.borgodicelle.com / info@borgodicelle.it