BY SIMONE BANDINI
San Conino oil is soft, delightful in appearance and intense in taste. Like a graceful girl whose precocious myth spreads across the grassy slopes of the Val d'Orcia where the sweet song of the 'two- tailed siren' rings out –  as in the brand symbol Alessio Panarese selected, a perfect koinè of tradition and popular history. We talk with him again about his second season as an extra virgin olive oil producer – on the Eastern estate he has chosen as his personal residence and where he has painstakingly recovered 15 hectares of ancient varieties to create a potent blend of the Frantoio, Moraiolo and Leccino cultivars.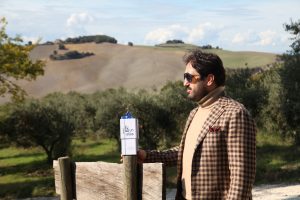 Like youthfulness infused with all its soulfulness and delicacy San Conino extra virgin olive oil speaks to us of an amazing terroir, an admirable balance of nature and wisdom: made in Tuscany, in the Val d'Orcia and in the traditional way, where men's ways are welded to the unfathomable will of sky and seasons.
We are at Podere Casato, a stone's throw from Monticchiello and in the Lucciola Bella nature reserve, on the eastern side of the Val d'Orcia, a Unesco World Heritage Site and a land loved by poets and writers such as De Montaigne and Dickens.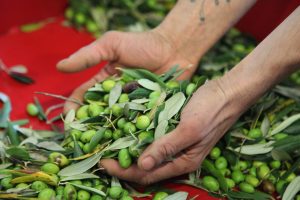 The name San Conino comes from a legend: in a writ of Benedictine monks there was talk of a Pieve di Conino in this area, dedicated to a pagan divinity. As evidence of this, there are two localities here, "Fonticoni" (Fonti di Conino) and "La Pievina": both refer to the probable presence of the parish in this area. The symbol that appears on the label is a bewitching siren with a forked tail harking back to pagan monsters and mythological symbols, which are also found in Pieve di Corsignano in nearby Pienza. The shape of the bottle is round, powerful, elegant, and Alessio tells us that he wanted to evoke a bottle of a magic potion.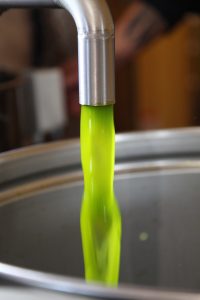 This time we came to the mill where, in dribs and drabs, we find the whole family gathered for a Squire's Feast. I feel a strong sense of identity and belonging that I had not felt for years since my childhood in the Umbrian countryside.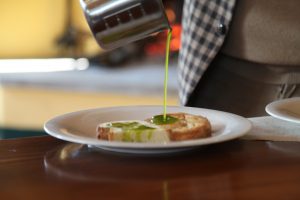 The new oil gushes out spreading hints of gold and chlorophyll: "This year we started the harvest at the beginning of October with an average yield of 7/8% . We don't mind. Ours is a different, special oil, with a production philosophy that is delivered on the plate. It is an oil with intense and very green tones, fruity, fragrant and humoral, precocious, with all the purity of  youth", Alessio Panarese tells us, while quite entranced we enjoy a bruschetta in the warmth of the fireplace, sheltered from the first rigours of autumn.
Info: San Conino Extra Virgin Oil, Alessio Panarese Pasta Panarese Farm. For orders and shipments: www.oliosanconino.it/ info@pastapanarese.it/ Tel +39 0577 880233