By Simone Bandini
What degree of consistency does your life have?
And here by consistency not meaning the specific weight of the Quiche lorraine who you are avidly papping with a glass of ancestral wine – falling elsewhere the consequential mechanics of your day. A cathartic aperitif, which however does not eliminate the problem (You should not forget to take a picture. Nobody does sophisticate happy hours like you, do not forget your value!).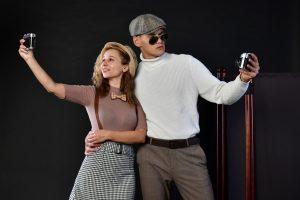 Who knows if all this enchantment of living will stop at the dreamy, exclusive aperitif. Or something else will probably happen: perhaps a family dinner and a certain circular sense of things. Then a restoring sleep in the lost cavities of a flattened soul, a repaired reset that will admirably grant second possibilities.
But what problem, will you say? Are there really questions to deal with?
Yes, there are. That Quiche Lorraine will be able to change, day after day, in a poisoned bite: extravagances will only be strange and disturbing rituals and will no longer be enough.
Unfortunately, some exotic moment, scattered here and there, allowed by bourgeois life, are not enough to qualify your path of life, either to define your identity and to make you worthy of the existence that has been given to you; neither the material facts and contingencies that make up your day, or the money you have. All this does not count: it will be nourishment for worms, or maybe a warm breeze that will disperse your ashes.
We are here to witness, live and manifest the uniqueness of our being, our soul and our impermanent breath. For this reason, one should not fall into the demonic trap of indistinct, a 'distinctive' sign of the modern world.
We must therefore not lose the sense of reality that allows us a correct, however approximate, definition of who we are – orienting our actions and choices with a principle of truth, loyalty and adherence. In this sense, I am giving you some 'commandments' of survival that – if they cannot free your vital energy and 'travel to your place' – at least they can keep those relentless poisons away, infecting a pre-established day life.
You should begin with giving up the role of the serial communicators you have become. "I share, therefore I am' cannot replace the well-known Cartesian axiom that founds man's essence on the manifestation of his doubtful thought. It is enough! Compulsive shares on social networks and immoderate use of photography via device. Learn to keep for yourself, jealously, what emotionally belongs to you, study or research; look at the 'real' world without unnecessary and didactic exploits.
Do not exchange your digital identity with the real one. You have to respect the sense of topical and responsibilities that requires your life. So you start open-face, without hiding in pretentious and often cowardly keyboard statements. Be ready to face the consequences of the positions taken. Do not run away in the digital inconsistency that lights up and turns off at will. The social profile can never be a substantial alter ego, but only a fetish of rubber, an embarrassing childhood avatar.
Please try not to exceed mental ballistics, in psychology and academic thoughts that infect the simplicity and linearity of the reasoning. Go back to 'being what you eat' without indulging in cavillous thinking by hiding yourself behind your thoughts. All this artfully complicate and swallow the elementary manifestation of reality that does not need hermeneutic forcing.
Lastly, run away from imitation and representation. Instead, be an emanation, punctual epiphany of your being in its multiple forms.
And if you don't know what to say, you are welcome to emit any 'revolutionary' sound.
Recommended listening: Depeche Mode, "Ghosts Again"