By Jori Diego Cherubini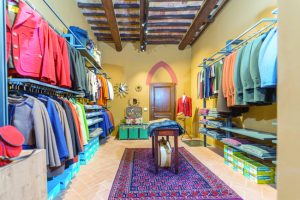 If you are looking for a shop specializing in trekking, walking, running, biking (and much more), you'll find it at VIAnDANTE. Massimiliano and Francesca opened it last July, after moving to Tuscany from Milan. And it has become in just a short time a point of reference for the many sporting types who pass through the Val d'Orcia. It's absolutely the top spot for those who run, walk, pedal, love hiking or travel without a specific destination.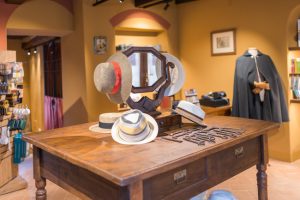 "VIAnDANTE  – Massimiliano explains – is for explorers, dreamers and the curious who follow a path so as to nourish the body, mind and soul". We are in the centre of San Quirico d'Orcia, in the middle of the Via Francigena: "We were inspired by the itinerary of Sigeric, the Archbishop of Canterbury, who began the journey in 990 AD and during the journey noted the stages of the route thereby creating the oldest extant record of the Via Francigena".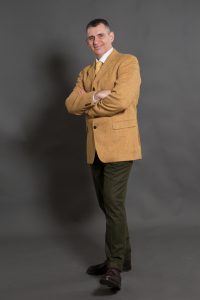 VIAnDANTE, indeed, reflects a whole philosophy of life. It can be seen in the excellence and uniqueness of the products on offer: "We cater to those who need quality, in items such as backpacks, footwear, walking sticks, as well as carrying an extensive range of trekking equipment". Speaking of brands: the store stocks Ferrino, (the Italian company specializing in the outdoors), Asolo (handcrafted trekking shoes), Scarpa (leisure shoes without sacrificing style), Tecsosport (technical clothing for trekking, running and cycling), as well as accessories to simplify the life of travellers, such as bike lights, pocket knives, water bottles, raingear and much more.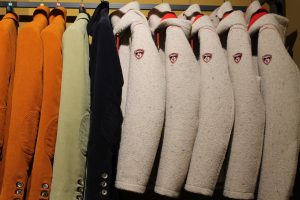 But the flagship of VIAnDANTE are certainly the clothing items, designed by Massimiliano together with his friend the stylist and fashion designer Ilaria Volonté. Together they have created a line "to wear on vacation and relive in the city", including shoes (for men and women), hats, jackets, knitwear and bags. "Every garment – the proprietor explains – is distinguished by very careful research into materials and fabrics, made with original detailing and fine yarns (such as Casentino cloth, jacquard, merino, moleskin, linen, cashmere, cotton, straw and leather)". And there is no shortage of more original offerings: "for winter we have the stupida" which is not an unintelligent person but a revisited military cap; then the mythical cloak, a wheeled cloak of ancient origins that is making a comeback; and our interpretation of the pilgrim saddlebag, in this case for women, which has an incredible fit; as well as jackets in moleskin and knitwear in 100% cotton, viscose and merino, then outerwear in a technical fabric, down or soft boiled wool from South Tyrol".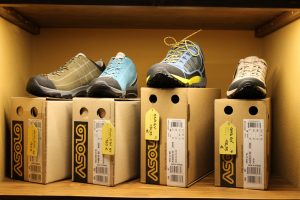 But that is not all. At VIAnDANTE it is possible to find all you need for travelling with animals, thanks to accessories that include tailored garments, such as Casentino cloth coats, harnesses, water bottles, foldable bowls and pet carriers. Finding ourselves in the perfect place for those who love to walk, here are maps centered on Tuscany, Lake Trasimeno, Monte Amiata and the Val d'Orcia, and one can also get your pilgrim stamp here as the store is associated with the Via Francigena route.
Info: VIAnDANTE Via Dante Alighieri 54b, San Quirico d'Orcia (Siena). Tel +39 0577 897790 / info@viandante-francigena.com / www.viandante-francigena.com