BY DARIO MIGLIORINI
Gold medal oil and healthy and delicious cooking.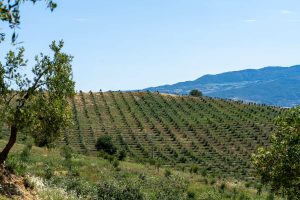 Following a classic Maremman road we arrive near Arcille. In this small town we find the Locanda del Maremmano, surrounded by olive trees. There the very kind Domenico awaits us and welcomes us to tell us the story of his family.
Domenico and Rocco's family has been involved in the production of extra-virgin olive oil since 1950: a fifty-year-old tradition that today they hope to pass on to their young children.
The love for the 'green gold' and the passion for its cultivation pushed the family to move to what is the real homeland of olive oil: Tuscany and more precisely the Maremma.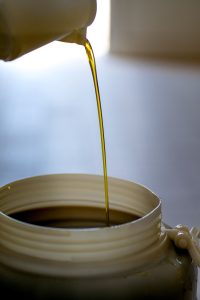 The possibility of making a product of even higher quality and being able to certify it IGT were the final push for the move from Calabria.
Domenico takes the project very seriously and has already planted 10,000 olive trees in the Granaione area – with the aim of starting an important production zone for national sales and, in the future, also for export.
The farm has its own oil mill which also provides for bottling.
All the sacrifices and hard work were rewarded when the Frantoio Terre Toscane IGT Bio Toscano oil won the gold medal in the EVO IOOC competition – and the silver medal with their standard IGT.
"We collect the fruit of our labours, transferring every emotion into it and pouring the fervour of the fields into the flavour that enriches the dishes on our tables", is the publicity slogan for Terre Toscane oil: "We select our best olives to turn them into a unique product and we look after every stage to guarantee an inimitable taste in every drop of our oil."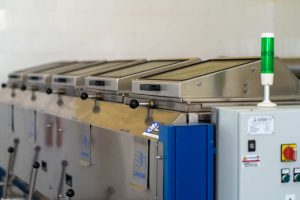 In the meantime the need arose to have a place that could act as an adjunct for meetings, tastings and, why not, also host a real restaurant.
The Locanda del Maremmano has only been going for a few months but I assure you it is an enchanting place, immersed in Domenico and Rocco's wonderful olive grove. From meat to fish, the characteristics of the cuisine are genuine low food miles dishes, prepared with great professionalism.
Fresh pasta is the star of the inn's tasty dishes, another typical feature of our area. The pasta comes in fact from the Pastificio il Sole – a business which is also part of the group that manages the Terre Toscane oil mill.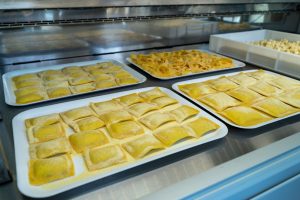 To complete the general picture you can stay in this splendid hamlet because the venue has mini apartments; it is therefore possible to fully enjoy all the beauty of the real Maremma, from the production of oil to good food.
Check it out!
Info: Locanda Dell Maremmano, Piazza della Repubblica 58042 Campagnatico, Tuscany/ Tel. 331 7642673