BY GIULIA FISCA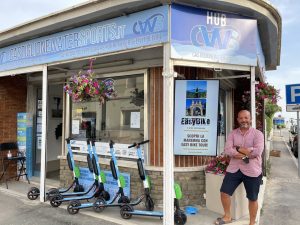 From ancient times the sea has been one of the natural elements that most fascinate the human spirit. And it is with this element that the wonderful project of the Nautico Water Sports centre has taken shape.
Water Sports of Castiglione della Pescaia started up about 15 years ago and, with the passage of time, has grown, changed its name and has been able to create increasingly interesting and compelling projects. A great passion for the sea and for windsurfing, to which other activities were added, such as Stand-up Paddle and sailing, were the beginning of an incredible adventure. Today at the nautical centre in fact you can practice all imaginable water sports; it's an Eldorado for those who love the sea and want to seek out unique and intoxicating experiences.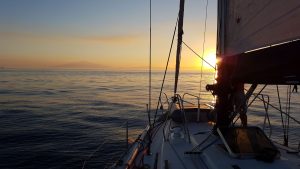 And so if you want to have an unforgettable experience, or you want to celebrate a particular event, you can also organize a dedicated romantic dinner – watching the sunset by candlelight, entranced by the marvellous and engaging atmosphere.
Equipped inflatable boats are also available for hire, by the day or weekend or for the whole week. You can book Sup, Water Ski, Flying Junior and all the kit for extra activities, which make excursions and trips even more fun. You can get to fantastic places like Punta Ala, Castiglione della Pescaia, the Islet of Sparviero, Cala di Forno and Cala Violina and thus visit the most beautiful beaches of the Maremma, with their crystal clear seas and pristine nature.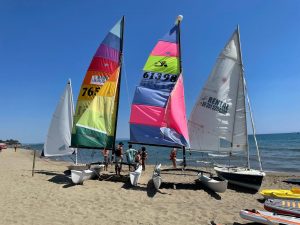 Over time, the centre has acquired increasingly specialized equipment and can also offer the use of Canoes, Catamarans, Sailboats, Lasers and Hobie Cat, paying particular attention to courses with Banana Boat, Wakeboard and Wingfoil.
The unstoppable desire to offer an increasingly complete service pushes the centre to remain open for ten months a year and to organize numerous courses to teach and promote water sports to both adults and children, about 300 a year, all carefully researched down to the smallest detail, based on age and individual requests.
The collaboration with the best sports and cultural services means there is the possibility to plan many other sports activities, such as horseback riding, bike tours and walkwork, great for all those who love adventure and want to get away from their daily routine.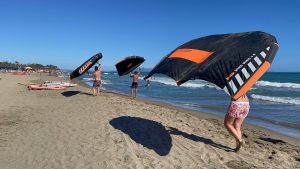 In addition to all the equipment, the centre also has at its disposal a team of qualified and specialized personnel. Excellent drivers and skippers lead and help, with attention and dedication, all who want to experience fantastic adventures in peace and safety. To guarantee excellence and professionalism, Water Sport uses only the latest generation equipment and the best international brands, such as RRD.
The desire to transmit a love for the sea goes beyond all limits and breaks down all barriers. In fact, this year it will also be possible for disabled people to access the beaches and immerse themselves in the water in complete safety. With a specially equipped vehicle and a small crane, it will be possible, free of charge, to offer people with disabilities the joy of entering the water.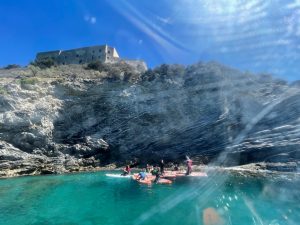 Water allows us to better understand ourselves and the world around us; it is a wonderful element that has the power to open new worlds.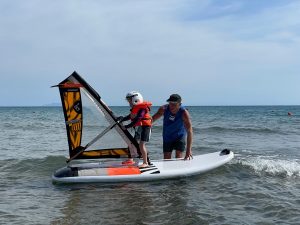 Info: Castiglione Water Sports, Riva del Sole, Via J.F. Kennedy, Castiglione della Pescaia (Gr)/ Tel. 342 8333641/ Whatsapp: 351 5254300/ www.castiglionewatersports.it/ info@castiglionewatersports.it