By Serena Lombardi
Like three curious travellers, together with the publisher Simone Bandini and the collaborator Simona Vagnoli, we set off to discover a hidden treasure in the heart of the Casentino: a farm renovated by the magical touch of the owners, where the beauty of nature and the passion for tradition come together in a new way of living and respecting the land and welcoming guests. Today, we will learn more about the family that gave birth to Casa Agricola Rossi and what makes it so unique.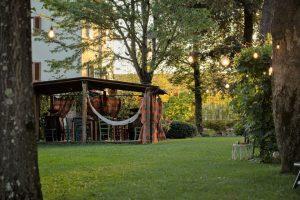 Antonio, how did the Casa Agricola Rossi project come about?
Casa Agricola Rossi was born from a long project of revaluation of a family agricultural structure started in 2016 to plan the future with new agricultural trends, while preserving the past. The style is aimed at maintaining the simplicity of the environment, adding a touch of originality and uniqueness with unused materials and objects.
Why and how did you decide to convert everything to organic?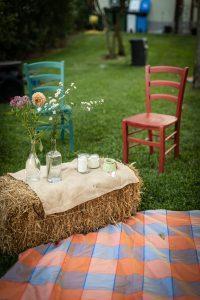 We started the conversion of the farm to organic in 2020, obtaining the ICEA certification in 2022, at the same time as the development of the eco-friendly farm certified by Legambiente. We wanted to go beyond conventional agricultural practices and ensure an ethical choice for the environment and for future generations. We received support from friends and experts in the sector and we joined the historic IRIS BIO social cooperative in Calvatone (Cr). We constantly dedicate resources and energy to restoring the soil to its organic properties, through regenerative agriculture techniques such as: improvements in soil drainage, sowing legumes and crop rotation. In 2023 we started cultivating spelt, harvested in July. After threshing, we send the raw material to the partner mill that transforms it into flour to be delivered to the Pastificio della Cooperativa Iris for the production of pasta.
What products do you offer to guests?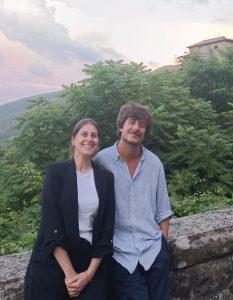 All our guests receive a welcome basket containing spelt pasta, tomato puree and biscuits, along with other products such as preserves and oil, from local farms. We also offer the possibility to book from the catalogue of Iris and the excellent realities of the Casentino.
Irene, what is your job in Turin and why did you choose to devote yourself to the management of the farm? How do the two jobs influence each other and how do you manage to reconcile them?
In Turin I deal with Digital Strategy and communication for a type B social cooperative active in the Piedmont area that takes care of projects related to food, social agriculture, tourism at high altitude. When my family decided to start this business, I immediately got involved in the strong emotional value to put into play my creative skills and fresh skills in Tourism Product Manager. With the Casa Agricola I have also grown, humanly and professionally. I took over the management of the reception managing to get 99% of direct bookings thanks to my constant work on social media that also allowed me to establish a wonderful relationship with guests and the community. When in 2023 I took the opportunity to join the Cooperative, I found many points in common with the Casa Agricola: the two realities complement and influence each other and despite the geographical distances, I manage to reconcile the work thanks to Smart Working and my passion.
How did the idea of a pet friendly structure come about?
The idea of a pet Friendly farm comes from the passion of the whole family for animals. Since childhood, Daniele and I have been lucky enough to grow up with furry friends and we know how difficult it is to find, even today, structures that welcome them 100%. Margot, thanks to her Instagram page attracts many "woof travellers" and tells @_meetmargot the farm as an inclusive place, where animals and owners can enjoy the tranquillity of spaces, without separating. To ensure a real pet friendly holiday without worries, we send a PDF guide with tips for visiting Casentino and its surroundings with your dog, recommending cultural places, pet friendly walks and the main emergency contacts.
Daniele, what work do you do in Turin and why did you choose to devote yourself to the management of the farm? What are your responsibilities?
I dedicate myself to planning and cultural innovation with 'The Goodness Factory' of which I am co-founder, I am on the Board of the cultural hub 'Off Topic' and manager of two musical artistic projects, Eugenio in Via Di Gioia and Andrea Laszlo De Simone. I also realize festivals and cultural formats. The Casa Agricola Rossi project has also involved me emotionally in a path of redevelopment, constant search for innovation, experimentation and enhancement of the excellence and traditions of the territory. Agricultural and cultural planning share an evolving paradigm that has ample space for research, hybridization and the identification of new business development models that generate economic benefits, but also in terms of social impact and territorial marketing. We have invested in extensive research, testing and reworking to transform a historical "space" into a "place" with a contemporary identity and meaning. 2024 will be a turning point because we want to create the first AgriHub in Casentino: not only agriculture and agritourism, but also sport, culture, social, training and innovation.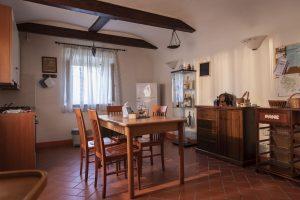 Cinzia, what are your childhood memories related to the house? How do you take care of it today?
I remember scents, flavours, images. I was the third of three sisters (Ambretta, Annalisa and Cinzia) and everything seemed big and magical for me, so small. I have to thank my father Vasco Rossi, born here in 1919 and moved to Turin as a young man for work, for having transmitted to us the love for this corner of paradise. Here since I was a child, I spent the most beautiful summers with my family. I remember Hilke, the black and white setter who aroused both fear and fascination in me. I remember the fragrant yellow grains in the barn and the hedge in the grove with the round and white berries, which looked like pearls from a necklace. I remember the fresh "zuccotto" cake on the table, fragrant and colourful of Alchermes, the cows and that scent of the stable that I loved and the tobacco fields. Today I take care of the farm so that guests feel at home. In addition, we try to reduce the environmental impact through separate collection and using ecological products and renewable energy.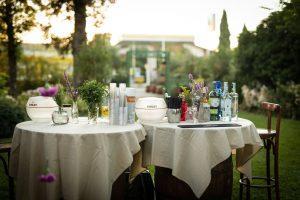 How would you describe the tasting experience offered to guests? What other events do you host?
Tastings are a moment of sociability and sharing in which we tell our story in front of a platter of typical Casentino products. We also host groups of minimum six people and private parties such as eighteenths, baptisms, graduations and small receptions, setting up the location respecting its natural rural beauty, thanks to the collaboration with local realities for any further fittings and / or catering. We also welcome schools and / or groups who want to discover the traditions of the past, looking at innovation.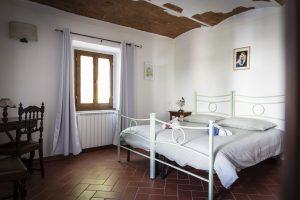 Info:  Casa Agricola Rossi, Via Nazionale 28/30 Soci – Bibbiena (Ar) info@casaagricolarossi.it / Tel. +39 340 5256218