By Simona Vagnoli
"I use simple things to explain life, which is not simple."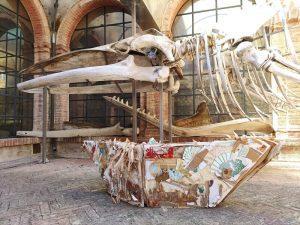 With this phrase that contains the essence of the work and spirit of the Casentino artist Sara Lovari, today I invite you to get to know her better and discover her artistic world where shapes blend with colours and emotions are transformed into works of art. With Sara, creativity and imagination have the power to transform reality, and to transport you to a universe of beauty and poetry, where each work is an emotion that takes shape.
Sara, tell us who you are, how did your passion for art and your path to date come about?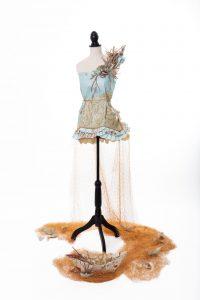 I am Sara Lovari, born in 1979, born and raised in Avena di Poppi (AR). After a degree in economics, which provided me with the knowledge and skills necessary to consciously manage the economic aspect of my career, in 2007 I decided to move to England to follow my dream of becoming an artist. The same year I debuted with my works in a group exhibition, which represented for me the starting point of a series of personal and collective exhibitions, both in Italy and abroad. I tried to paint but the smell of antique objects and old books immediately kidnapped me and I switched to paper sculpture and assembly.
In 2014 I had the privilege of being selected as a finalist of the prestigious Arte Mondadori prize and I won the Adrenalina di Roma prize in the 'new proposals' section. In 2015 I reached the final for the Catel Museo Scuderie Aldobrabdini Prize in Frascati and I had the honour of exhibiting my solo exhibition entitled "Les objects" at the Museo dell'Accademia Etrusca in Cortona. In the same year, I won a scholarship from the University of Oklahoma with ArtResidence Norman USA where I performed a cycle of works "in site" on the theme of travel.
In 2016 I won the Gold Adrenalina-Roma award and in 2017 I attended the Hurricane Biennial at the National Weather Centre in Oklahoma City (USA). In the following years, I committed myself to making my works known globally, regularly participating in important events and exhibitions both local and international of great importance.
What are your sources of inspiration, what materials do you use and why do you choose them?
"My Casentino" is the main source of inspiration, a magical and enveloping land, which feeds me with emotions and suggestions. Thanks also to my passion for outdoor sports, I am lucky enough to be able to explore and appreciate every single inch of the valley. From the woods of Camaldoli to Sasso Spicco, from small villages to waterfalls along rivers: every place fascinates me for its colours and its history and always provides me with new inspirations that help me in my creations. The Casentino is my source of creative efforts, but it is also my home, the place where I always return with joy and gratitude.
My art is also strongly influenced by the experiences of the people I meet, as well as the materials that choose me to be assembled. Often, people come to my studio and tell me their stories, which I then translate into objects through my work. My hands are just a means, like a pen writing on paper, to unite things in an exclusive and original expression.
Everything that is exhibited and for sale in my studio is the result of collaborations with Tuscan companies that I personally follow from the choice of the object to the realization, respecting my unique and special concept of work. You can find ceramics, cycling clothing, leather goods and objects, all strictly made in Tuscany with my design, and original works from which various side projects start.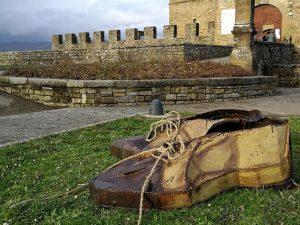 What are the main challenges in this work?
The challenge is daily. Being a freelancer does not only mean dedicating oneself to one's passion, but also involves having to face the challenges of bureaucracy and administrative tasks, common to all professionals. However, I believe that love is an extraordinary force, capable of overcoming all difficulties and giving us the necessary strength to face all the challenges of life, including those at work. I am a stubborn and determined person and I have always been lucky enough to be able to count on the support of many people dear to me, who in times of uncertainty, are always by my side, ready to help me find the right path and to support my choices.
What are the three works that best represent you?
"Mauro's shirt": a painter's paper sculpture that allowed me to arrive in the first 9 sculptors at national level at the Milan Triennale.
"The Fifth Element": a new project born from the assembly of lapis and lapis appointments, exhibited at the Wikiarte Gallery in Bologna. This work is not only an example of patience and precision, but also a reminder of the sea and the movement of its waves.
"Write to me": a Paper Dress with train made with Kartos papers, which was exhibited at the Lucca Paper Biennale 2022 and tells the journey of writing from the letter envelope to the stamp.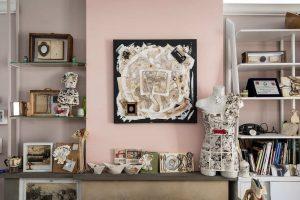 What does the future hold for you? Can you tell us about some of your projects in preview?
During the months of May and June, I had the honour of participating as a set designer in the production of three short films, under the guidance of the talented director Linda Fratini, which will be broadcasted in 2024. This year I had the privilege of collaborating with the Municipality of Pratovecchio Stia, thanks to the Mayor Niccolò Caleri and the School of Blacksmith Art, for the creation of two iron mannequins-monument, permanently exhibited in front of the TACS and near Tessilnova.
In addition, my iron work "Magic allegory of a Key" will be installed in a few days along the new cycle path of Pratovecchio.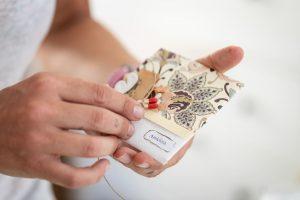 On September 23rd a new exhibition will be inaugurated, curated by Laura Monaldi, at the Spazio Zero in Pistoia, which will see me protagonist together with two other great artists.
I will continue to work in synergy with large companies, including MiniConf and Kartos. With the precious papers of the latter I recently created an entire dress for Pitti Uomo 2023 and I will present a new project in Frankfurt in 2024.Currently, I also maintain a constant collaboration with Bruno Rossi Bag for the production of high quality leather bags and accessories, with Ceramiche Tapinassi for the creation of ceramic objects and sculptures, with GLS of San Gimignano for the creation of objects and with DaMa Cycling for technical clothing for cyclists. I also have a project in the pipeline with BRG Illuminazioni.
I am also thrilled to announce that the collaboration with Indian designer Elsie Nanji and design expert Harsh Manrao will continue, thanks to the trust and mutual esteem that unites us. After the success of our work for the Museum of Living History, we are planning new initiatives in Mumbai and will soon work together again for another museum.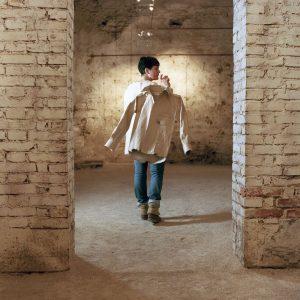 Info: The SaraLovariArt studio is located in Piazza Soldani 12, in Poppi. For those who do not have the opportunity to meet her in person, we point out her digital showcases: www.saralovariart.it, Instagram and Facebook account "SaraLovariArt" and the telephone number 347 0875234.