By Serena Lombardi
Turning a dream into a concrete project: this is what Vincenzo Vangelisti did, when he decided to invest his money, result of a successful working life, to create a business destined to guarantee a solid future for his family. After working in a metalworking company specialized in the recycling of gases and liquids for industrial car conditioning, Vincenzo also made available his entrepreneurial vision and his determination to invest in the dream of his daughters to manage a farm.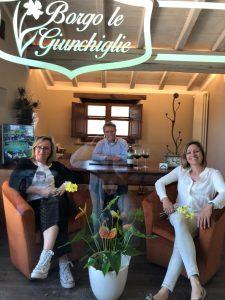 To achieve this venture, he chose a land with a centuries-old history that blends with the nature and culture of the Casentino. Always, anyone who lived or passed through this area, was kidnapped by the beauty of wild daffodils and picked them to take them to the local cemetery. Even today this flower grows both spontaneously and cultivated, creating an enchanting and evocative atmosphere, so as to have the honour of giving the name to the village. A village that, according to official testimonies, has existed at least since 1923, but which could originate as early as the eighteenth century, when the Lorraine dynasty arrived in the territory to reforest and build farmhouses near lush water wells.
For Vincenzo's daughter, Irene Vangelisti, managing 'Borgo le Giunchiglie' does not only mean offering hospitality to tourists, but also immersing herself in nature and in contact with the land. Life in the countryside has always been her dimension, and work as a farmer has always fascinated her. Letting yourself be lulled by the silence of the forest, touching the trees and the earth, is for Irene a way to recharge her batteries, to channel her hyperactivity and to feel at home by connecting with her roots and with the history of her family. The grandparents, true farmers, lived the land with passion and dedication, the father has always been dedicated to cleaning the wooded areas and replanting the trees and now Irene wants to carry on this legacy.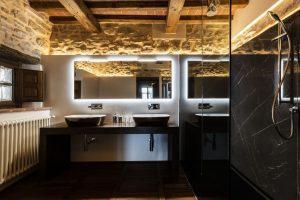 At Borgo le Giunchiglie, time seems to pass differently: here, scents and colours of nature and a thousand varieties of flowers mixing with birds singing and the sound of the wind caressing trees.
The lake, woods and orchards have been restored to become a paradise for nature lovers and birdwatchers. Among ancient oaks and alders, it is possible to spot a rich wildlife that includes woodpeckers, cormorants, white gazettes, herons, swifts and numerous birds of prey. A large hare completes the wonderful ecosystem that has regenerated in this place.
In the fields ancient cereals are grown in rotation, processed in collaboration with the 'Fattoria di Selvoli', and hazelnuts.
But the farm is not only contact with nature, it is also a place of meeting and sharing suspended in time. The rooms, thanks to the contribution of the architect Luca Bonetti from Poppi, have been restored with precious raw materials: ancient oak wood, stone, chestnut beams and handmade terracotta tiles.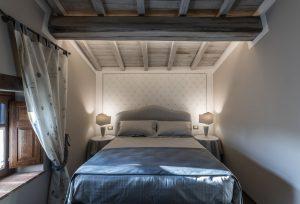 The conservative project has been able to perfectly combine tradition and modernity creating a unique and discreet atmosphere and has been taken as a model for the creation of a book, in Milan, for the choice of upholstery. The 22-light chandelier, which embellishes the large living room, adds a magical touch.
Thanks to its offer of exclusive village, guests can enjoy an authentic and unforgettable experience, renting the entire structure for their group of friends, family or just as a couple. In this way, they can accommodate whoever they want and still maintain a high level of privacy throughout their stay. To maintain the high standards of hospitality required by the target to which it is addressed, Irene has even chosen not to allocate one of the housing units to the guardian. "We want to guarantee our guests maximum privacy and allow them to take over the environment as if it were their home," she explains.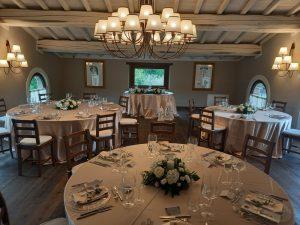 The clientele – 80% of which is made up of tourists from abroad – can benefit from contact with nature but also from an outdoor swimming pool, a lush garden with patio, a covered barbecue, an old wood-burning oven, a spa with sauna and Turkish bath and a cellar where you can organize wine and typical products tastings by candlelight.
'Borgo le Giunchiglie' is composed of 3 main structures: the 'Manor House', the 'Barn' and the 'Family House' where there are various units intended to accommodate a maximum of 24 people. The farmhouse has common areas also suitable for ceremonies and events, suitable for up to 50 people inside and 150 outside. The structure is ideal for a wide range of activities ranging from corporate trainings, yoga classes or cooking classes. In the industrial kitchen, made with a high level of design, guests can cook independently or rely on a network of professional chefs of the area.
"The farm has a six-monthly opening to avoid stressing the different environments", concludes Irene: "During the six winter months tourists give way to professionals who are dedicated to agriculture, home, fields and woods maintenance and to produce firewood. And I also live my ideal dimension in a more intimate way".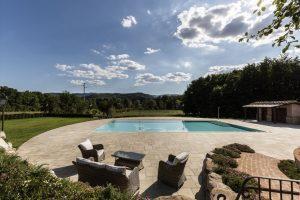 Info: Borgo Le Giunchiglie, Località Sala, Poppi (Ar) / Tel. +39 333 4778134 / mail: info@waissrl.com