BY GIOVANNI SALVIETTI
This morning in Colle di Val d'Elsa we met a very nice 'type': his name is Dante and he is a four-year-old bracco Italiano dog. He was visiting the San Marziale Veterinary Clinic for a routine checkup. Immediately at ease, he showed an exceptionally sweet and nice disposition! We were literally enchanted by the dedication that Dr. Francesca Messeri, medical director, together with her father Dr. Carlo Messeri reserve for their four-legged patients.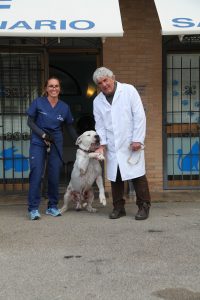 Pets are an essential part of human life. The empathy they create goes beyond any standard affective relationship; their unconditional love nourishes the heart and soul of their owners – so that nowadays we speak of them as regular members of the family nucleus. Since 2002, at the San Marziale Clinic, our special friends have benefited from a great variety of cures, interventions and treatments – and can thus expect to stay in or return to sterling health. Carlo Messeri tells us how the plan to open the veterinary clinic came from an immeasurable passion for animals. In 1971, the Doctor had begun to operate on small and large animals and then specialized in dogs and cats. His children Francesca and Lorenzo have continued in their father's footsteps, carrying on the family vocation. Francesca, after studies at the University of Pisa, is currently the Health Director of the clinic. Her experience started in the memorable and distant days of childhood: at the age of seven she had already assisted his father as a theatre nurse and she never missed father's consultations at the clinic and even in the stables, when he was still doing artificial inseminations on large animals. Father, seeing his daughter's passion, always took Francesca with him – on his motorcycle in fact – so that she could have a direct experience of the profession.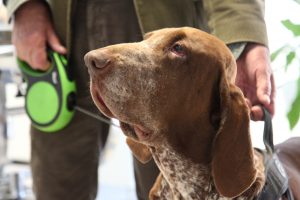 Lorenzo too, was enthused by his father's profession from a young age and never doubted what his future would be. With a universal love for all animals he watched his father sew up large and carry out major operations… but couldn't reach the operating table! So he got up on a high stool trying to help papa – who was always very proud of the interest he showed. After qualifying in Pisa, Lorenzo is now specialising in cardiology and thoracic surgery in a top clinic in Livorno. He will soon return to the family business to add his experience. "It will be wonderful to be all together again! We will go forward with our studio with professionalism and passion in what has now become a real family tradition", the father tells me.
The pleasure of being able to exchange ideas and opinions with Carlo and Francesca is priceless: every single word expresses professionalism and passion. The vet nowadays must be able to instil peace and security in the owner sometimes even in very critical situations, sometimes becoming almost a psychotherapist especially in difficult moments, such as when we have to help our companions in life to 'cross the bridge over the rainbow'. Animals that were once considered farmyard animals are getting closer and closer to being domestic animals: a story that made us smile is that of the arrival in the clinic of a goat on a leash named Isotta –  with a fracture caused by her friend and playmate, a donkey! In 2020, annus horribilis of a global pandemic, the isolated condition of families created even greater attention for our life companions and so the clinic strengthened its 24hour service – the only such service of its type in Chianti and Val d'Elsa.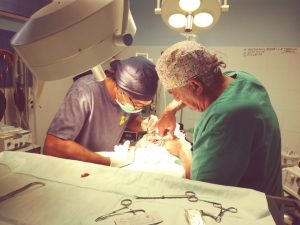 Dr. Francesca Messeri also collaborates with the municipalities of Colle di Val d'Elsa and Poggibonsi for emergency veterinary care. Lost and injured pets can thus receive all the necessary care in a short time. Thanks to identification via microchip the owner is contacted and can happily go back to take care of the lost animal; while in the case of stray dogs, the Municipality covers the veterinary expenses with consequent hospitalization at the U.N.A shelter located in Poggibonsi where Francesca is also Medical Director. The U.N.A. association has been managed for years by Signora Brogi who, with great love and professionalism, takes care of abandoned dogs that finally find love and, very often, a new home.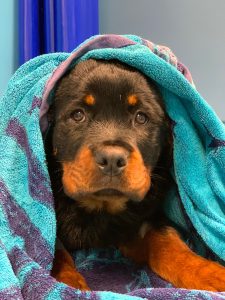 The clinic is equipped with the latest generation in equipment and also makes use of external specialists who make their particular contribution. The strength of this organisation, in addition to the professional skills, is in the availability and in love that all the staff put into curing patients and calming owners. When you enter the clinic you will breathe a familiar environment: Dott.ssa Simona welcomes us like a paediatrician and reassures the four-legged patient – we can find her stretched out while talking to a dog, or reciting rhymes like grandparents with their grandchildren! Then there's Dott.ssa Marta, with us for a year and always busy in the anaesthesia department – always striving for an optimal awakening and reducing to a minimum any post-operative pain. As we make our way through the clinic's maze of rooms, a little soft-eyed dog, Pippo, enjoys the pampering of his owner, after a jaw osteosynthesis which also required a nasal feeding tube for the first days after his operation: a nice image which symbolises the capacity to love and appreciate our animal friends that dwells in human beings – and that touches our hearts.
Info: Clinica Veterinaria San Marziale / Via Teano 7, Loc. Gracciano / Colle di Val d'Elsa (Si) / Tel. 0577 908145 / Mob. H24 Emergenze 393 7724380 / clinicasanmarziale@gmail.com / www.ambulatorioveterinariosanmarziale.it