BY SIMONE BANDINI
Our journey to discover the Radda in Chianti area continues – begun with the Mayor Pier Paolo Mugnaini and architect Daniele Barbucci – and in particular its winemaking tradition. Let's take a cue from the recent awards that have fallen like rain on local producers: seven vineyards awarded three glasses by the Gambero Rosso guide – a very high concentration for such a small and defined territory. We talk about it with the President of "Radda Winegrowers" Roberto Bianchi – who is waiting for us at his vineyard on a warm and golden morning in early November…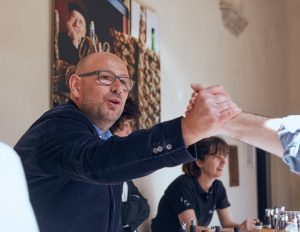 …and who gives us a first 'fresco' of his area: "Radda is a geographical and historical heartland, seat of the Lega del Chianti in the 14th Century, the very fulcrum of the fundamental Chianti culture and its special identity: a harsh, wooded area with a continental-like climate – with marly calcareous well-drained soils that are rather poor in organic material." An extreme, difficult place, where all agricultural production, and wine in particular, has been difficult to carry out over the centuries.
After the sharecropping crisis it was in a largely depopulated and impoverished state. At the end of the 1960s, most of the vineyards had been abandoned. And what happened then? "There was a renaissance of Chianti Classico that cleared away the slightly rustic and acidulous Tuscan flask wine – but Radda still stayed on the sidelines of this economic growth," he explains. "The Sangiovese vine is difficult to mature, it requires a lot of sun and a long exposure," he adds.
"Then from the 1970s, over the twenty years that led us to the splendid 1990s, far-sighted and attentive local governments – a group of passionate and somehow visionary people headed by Giorgio Bianchi, mayor for three terms – promoted a model of sustainable development with a harmonious and delicate balance for the territory. The investments of enlightened entrepreneurs followed hand in hand to drive the qualitative development of the area."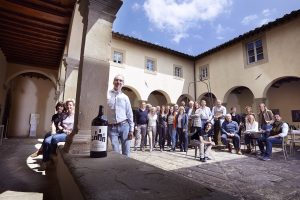 At the turn of the millennium, climate change had arrived overwhelming us with longer and more intense summers, sudden heat waves and long dry periods. Radda in Chianti gradually became the happy island of Chianti with its cool dry summers – an environmental optimum able to elegantly express the great minerality of the soil: "The virtuous competition of public and private enterprises in the last twenty years has allowed Radda to complete its 'redemption' from a difficult past, and has today become a sub-area of the acclaimed quality wine Chianti Classico," he reminds us.
The seven Radda winemakers to have been awarded by the Gambero Rosso guide are: Castello di Volpaia, Castello di Albola , Castello di Radda, Monteraponi, Montevertine, Istine  and Val delle Corti. "An extraordinary result for our producers that strongly pushes us to continue our work". Established in 2018, the "Winegrowers Association of Radda" aims in particular to "define territorial identity in a bipolar way – both internally by constituting an aware, informed and cooperating work group – and externally in the overall identification of this sub-area of Chianti Classico, in a complementary and constructive way, working hand in hand with the Consortium", he informs us.
The cultivation of vines in Radda is 70% organic Roberto tells us as he ecstatically recalls the memorable 2016 vintage. And 2020? "A strange year with a strong heat wave in the middle of summer followed by storms and again great heat. And at the end of September new extreme phenomena with powerful winds. The yields are low, around 60%, but with beautiful fruits and a lower than average alcohol content. Drinkability is also another of our great strengths!", he concludes.
Info: Information Office Pro Loco Radda, Piazza Castello, Tel. 0577 738494 (Silvia Brogi) / proradda@chiantinet.it / www.comune.radda-in-chianti.si.it