By Simone Bandini
'So falling into deadly disease is not being able to die, but not as if there were the hope of life, on the contrary, the absence of all hope here means that there is not even the last hope, that of death'  
The Deadly Disease (1849), Søren Kierkegaard
At the heart of a night like so many others the demonic marriage of materialism and capitalism is consummated. In the indifference of the stars that dispense for themselves, without dissipation or wastage, the creative and mythopoetic magic of their own revolution.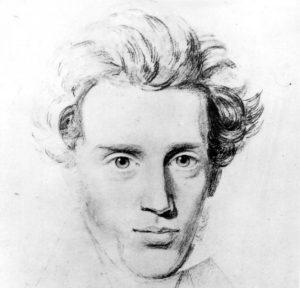 Yes, we certainly noticed something. We realized how earthly existence has been 'reduced', as if sucked up by several mouths: the all-encompassing mechanics of the profession of 'earning one's daily bread', in a family 'experience' which is the comic and caricatured version of the ancient domestic hearth (while now there are only needs, things to do, where being for being's sake is forgotten, where belonging fades into the provisional and contingent), a state bureaucracy that, at the time of the new global pandemic, wraps in its coils and encodes every space of individual and collective action, even the very possibility of self-determination.
In your free time some friendship or virtual flirtation (sometimes real!), a game of padel with friends, perhaps an evening on the sofa with pizza and beer (with some apocalyptic or dystopian blockbuster) or, for the more alternative, discussions on fluid thinking, the fascist danger that never goes away, the latest from the web on the health dictatorship, without forgetting the new world conspiracy of humanoid technocrats.
This long night of freedom and identity is the undisputed darkness of materialism: the swamp of indistinction where its Erinyes ['Furies']  ̶  thrusting their arms toward centralism, to the most sinister and resigned form of statism  ̶  trudge along, stunted in the mephitic waters  ̶  where life itself is worth a pneuma. But it is a 'breath' that is anything but heroic.
This shapeless movement, absolutely straightforward and very modern, makes us cry out like ancient melancholy demigods: "Il n'est jamais plus tard que minuit!"  
It is never later than midnight: the divine breath that stirs the soul by elevating it  ̶  and which by elevating it dominates the spirit (and also the flesh!)  ̶  is lost in the exaltation of accumulation  ̶  of goods and values ​​without direction or origin, ultimately without any discernment or axiological consistency.
Life is precisely 'reduced' to a metastasis since, in itself, it has value exclusively in its operation, in its 'malignant', deadly and transient nature. In its material root. By the mere causality of its effects, existence is what happens to us, no longer what we are.
Will merges with necessity rather than freedom.
Recommended Listening: 'Glycerine', Bush