BY JORI DIEGO CHERUBINI

Whether the call is to create gardens like works of art, add irrigation systems, paths, install barriers, picket fences, tree surgery operations, landscaping or agricultural services, the answer is Boscaglia. A company that emerged out of a long history of cooperative forestry work and that since 2017 has been reborn as a limited company with a young and dynamic spirit, working throughout Tuscany.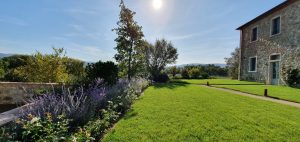 Keeping your garden tidy and healthy is increasingly a priority: as an outdoor space perfect for welcoming tourists (if it is a hospitality facility) or for personal pleasure. La Boscaglia will take care of everything. From design to construction, always beginning with consultancy. Boscaglia helps the owner from the beginning to the end of the work, thanks to its highly qualified personnel and state-of-the-art machinery. A perfect combination of gardening, forestry and agriculture, found in a company born as a forestry enterprise and that extended into gardening.
There is no lack of special experience with top grade venues: for example Borgo San Felice and the garden of the Poggio Rosso restaurant (one Michelin Star) of the well-known chef Juan Camilo Quintero. Staying with exclusive venues, La Boscaglia takes care of both ordinary and extraordinary maintenance at the Casali di Casole: twenty-seven splendid farmhouses (as the name implies), each different from the other immersed in the green heart of Tuscany and managed by Timbers Resort.
As for the works – different for the public or private sectors – they always start with a site visit and continue with the advice of highly skilled engineers and architects able to work on every aspect of the project, up to signing it off. A fundamental aspect of Boscaglia is their service package for agriculture. In particular, the care of olive groves including all the regular maintenance operations – such as pruning, treatments or harvesting. The same goes for vineyards and orchards, with the installation of rows, fencing, barriers and everything related to maintenance.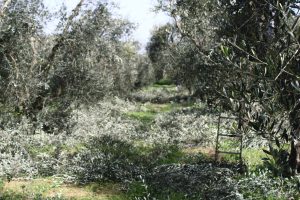 The Boscaglia workers – numbering sixty, in addition to seasonal workers – receive continuous training that allows them to tackle the various aspects of their work in a professional and flexible way. Another major Boscaglia enterprise is the care of urban greenery, as recently in the splendid Piazza della Vittoria in Florence or Piazza Mazzini in Poggibonsi. To operate right across the region, Boscaglia boasts offices in Santa Fiora, Donoratico, Radicondoli and Colle Val d'Elsa: all morphologically different territories (mountains, hills and sea) with solutions for everyone.
Boscaglia's main partner is Terre dell'Etruria, a large company in the Tuscan agricultural world, with which there is continuous contact and collaboration starting from the agricultural sector, but which extends to the other sectors of the company. We can add that our staff have an excellent knowledge of the English language.
Regular maintenance
We carry out periodic work to ensure your garden looks cared for all year round: grass cutting, fertilization, preventive treatments and minor pruning of hedges or trees.
Special Works
Thanks to the availability of machinery and the training (including for safety) of our employees, we offer special maintenance services such as pruning of large shrubs and felling of trees of any size, often with the use of lifting platforms equipped with basket or with tree-climbing. Other services are: treatment of sudden plant maladies, re-profiling of embankments, cleaning of catchment areas and earth moving.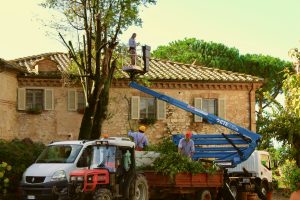 Agricultural services
In agriculture we take care of olive groves and vineyards with the utmost professionalism; but also with the typical love of local farmers, recognizing the value of the products that represent our territory and our culture.
Olive harvesting and maintenance of olive groves and vineyards
The harvest takes place by means of battery powered harvesters. As for maintenance: pruning of all kinds, reduction of the branches, shredding, fertilization and phyto-sanitary defence. For the vineyards: winter pruning, green pruning and treatments.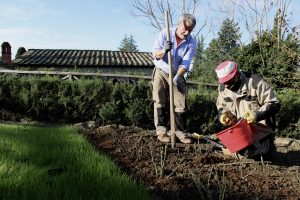 Selva Onions
A new project which consists in the cultivation of Selva Onions, a venerable crop local to the Amiata region.
Public sector
We deal with the construction of parks and public gardens, forestry and landscape engineering. The company is Dasa-Rägister certified and each of our services uses SOA certifications to confirm quality.
Info: La Boscaglia, Tel. 0577 1697690 / 351 8970474 / 366 6148668 / info@gboscagliasrl.it / www.gboscagliasrl.it