BY JORI DIEGO CHERUBINI
Bibbio, for the uninitiated, is the old name that the Tuscans gave to the wigeon: a kind of duck that, on its migration, stops in Bibbiano, one of the hamlets of Buonconvento and where we find ourselves today. More exactly at Il Bibbio restaurant, run under the banner of Maria Pia and Marcello's passion for good food.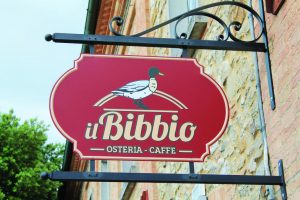 To get to the «Land of the Wigeons» you have to go up a hill, pass a little church, turn left, bear slightly left again and there's the restaurant. It has a marvellously panoramic and truly enviable position. Inside we are welcomed by Maria Pia and Marcello, a couple who share both their work and their lives, she's from Milan and he's from Lecce. Together they had the idea of transforming a tavern into a modern, clean and welcoming restaurant, where Maria Pia's cuisine blends perfectly with the artistic decor and the surrounding landscape.
«We offer a menu –  Marcello tells me –  which varies a lot according to the season, following a mix of Tuscan and other Italian regional traditions». To get to specifics, among the appetizers: «from the most classic –  he goes on –  such as salami, bruschette and cheeses we offer less usual choices, such as Pecorino flan (from Montalcino), Carasau bread with robiola and ricotta, Cannolo di Grana Padano and vegetables, Sausage and tomato crepes… In general we always try to vary our dishes».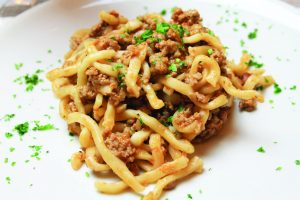 As for the first courses, that works in a similar way: «alongside the Tuscan Pici alla cinta Senese, Pappardelle with wild boar, Pappa al pomodoro or panzanella, we add Mezzemaniche with speck and saffron, Gnocchi with gorgonzola, pears and walnuts, Trofie with pesto, rocket, basil and courgettes… ».
From there we move on to the main courses: «tagliata, filet, peposo, grilled cinta senese kebab washed with red wine, duck breast with orange, guinea fowl with mushrooms and port, boneless rabbit or rabbit legs with rosemary and bacon». The side dishes also follow the seasons: chickpeas, Fagioli all'uccelletto, roasted potatoes, baked endive. And finally the desserts: «Here too, along with Cantucci al vin santo, pannacotta or tiramisu, we also offer recipes such as  Semifreddo with almonds and chocolate ganache or vanilla Bavarese with a chocolate heart». A decent wine list is available naturally (Marcello is a fine sommelier), with the Montalcino reds and bottles from the Val d'Orcia, Montepulciano and Chianti, along with other wines that range from Piedmont to Sicily. About the beers: «we are now introducing artisanal beers, such as Saragiolino and others from the area».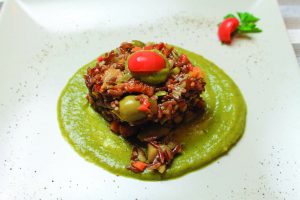 Entering the Bibbio, as mentioned above, the décor is centred around art, with paintings by more or less well-known but always interesting artists: «it's another passion I share with Maria Pia, we like the idea of introducing work by artists who may not be too well known but who are really talented». In addition to food –  a noble discourse in itself –  il Bibbio offers something more: «We would like to become a point of reference for those who love good food, of course, and at the same time create a hub that connects to art and events that act as a stimulus to the community, such as book presentations or photographic exhibitions, and in general initiatives capable of bringing together the people of the village, and beyond». The restaurant is open from 10.30 (even just for a coffee) to 14.30 and from 18 to 22.30. «The Eroica cycle track goes by here and many cycling enthusiasts stop by for a break and then set off again». Finally, a curiosity: the old managers of this place, we are talking about thirty years ago, were called Marcello and Maria Pia, just like the owners of today, a truly unique coincidence.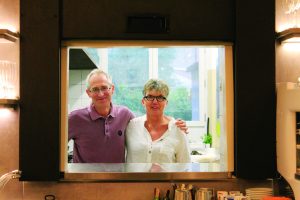 IL BIBBIO, Osteria, Caffè. Località Bibbiano, 6. Buonconvento (Siena). Info e prenotazioni: osteriailbibbio@gmail.com, Facebook: Osteria il Bibbio. Tel: 338/8802665