By Barbara Frau
L'Angolo della Scarpa (Shoes Corner) lays its foundations in 1998 in the first headquarters in Bibbiena in via Carlo Marx when Paolo, with a long experience in the world of shoe sales, together with his wife Anna, decides to support a young daughter then twenty-three, Silvia, in trying to follow in his footsteps, but with a shop of his own.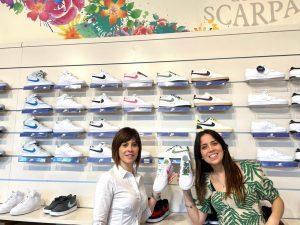 Wednesday, May 31, 2023 for the 'Angolo della Scarpa' is not just any date. It's been 25 years since the opening of Silvia and Maurizio's shop. 25 years of important decisions, goals achieved, joys and satisfactions have passed; but also of difficult moments, such as the loss of her father Paolo, Silvia's point of reference in her professional choices. The whole family and staff are at work on this day of celebration but welcome customers in a bubbly atmosphere. An arch of coloured silver, blue and white balloons surround the entrance of the store, DJ Francesco Zampella animates the afternoon with energizing music and the sweet and savoury buffet with unlimited drinks is available for passers-by and regulars. A complete sunny and energetic staff that transmits all the passion invested for 25 years in a successful business.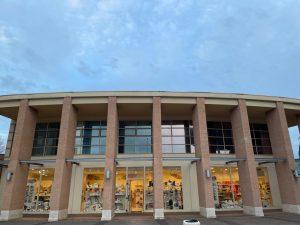 The strategic choice regarding the location of the store, the selection of quality products but at competitive prices, the experience of Anna and Paolo combined with Silvia's desire for innovation mean that immediately things go so well that after 5 years, in 2003, to expand the sales area, they move to the current headquarters of 300 square meters of the 'Il Palazzetto' Shopping Center in Bibbiena. Silvia is also joined by her sister Manuela, who will then follow her path in the world of bags and clothing and, immediately after, her husband Maurizio. Today Silvia and Maurizio, together with the trusted and irreplaceable collaborators Mery and Viola, are available in a bright and welcoming shop.
'L'Angolo della Scarpa' can really boast a wide choice of footwear; Silvia and Maurizio think of everyone and every occasion. The wide range of shoes ranges from men's, women's and children's fashion; There is also a wide choice of footwear dedicated to sports and a more elegant section for ceremonies. Finally, you can find a comfort line with slippers and comfortable shoes and an area dedicated to trekking. In short, it is difficult not to find the "shoe for your foot".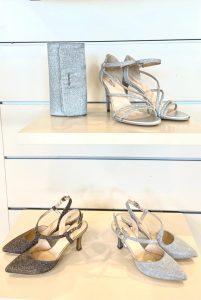 The seasonal choice of collections takes into account fashion and current trends, favouring quality, Made in Italy and the exclusivity of the brands in Casentino; important brands such as Nero Giardini, Liu-Jo, Timberland, New Balance, Napapjri, Colmar, Chicco and many others are on display in the store with order and excellent taste.
Silvia personally takes care of the fittings and has transmitted to her collaborators the goal of serving the customer by helping him in the choice and always trying to find the right solution by making him leave the store happy and satisfied with his purchases.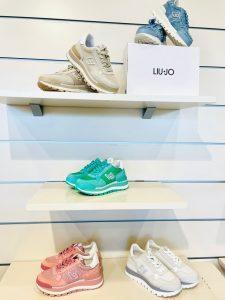 Perhaps the biggest challenge was having to deal with clients that moved their purchases to the world of e-commerce. "We also have our own website for online sales, www.sabatini.shop", explains Silvia, "but we are convinced that our customers do not want to give up the strength of the personal relationship, the advice of the trusted salesman, the possibility of being able to see and choose shoes live, try their comfort and fit by leaving the store with the desire to wear them at the first opportunity and being 100% convinced of the purchase".
"I hope to have inherited my father's entrepreneurial spirit and my mother's commercial spirit," says Silvia, her eyes shining. To date, her mother Anna is present in the store but her new job is to make Azzurra and Edoardo's grandmother with love. Paolo is no more with us… But perhaps from above he looks with pride at the company of which he saw the first steps and that now the two daughters, Silvia in the 'Angolo della Scarpa' and Manuela in the bag and clothing store 'Sotto Braccio', located just ahead, manage with the same skill and passion that he transmitted to them.
I leave after a long and pleasant chat with Silvia and Maurizio where between memories and anecdotes, a smile and a tear, I was for a moment a spectator of an exciting story of a family united in love and hard work. Obviously, I could not resist the temptations of the spring collection and a new pair of leather-coloured boots is added to my wardrobe because, like Silvia and Maurizio, I also do not deny that I have an innate passion for shoes.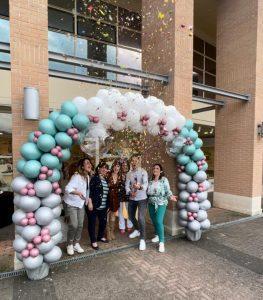 Info: Via Palazzetto 15/a1 (Centro Commerciale Il Palazzetto), Bibbiena (Ar) / Tel. 0575 536413 / www.sabatini.shop