Di Federico Donti
DAJE is not just a shop, but evidently a motto that has marked the lifestyle of Silvia and Riccardo Donti who, 7 years ago, opened their shop amid a thousand uncertainties and sacrifices, with the determination for which we have always known them. From this intuition the DAJE was born in 2016, right in the historic centre of Perugia. In March of this year, restoration and renovation work began while changing both the processing part and the one intended for guests in a functional way, they were able to maintain the initial identity and format, focusing decisively as always on the authenticity of relationships and on the family atmosphere.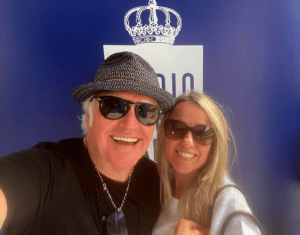 The two brothers come from the world of catering and trade, already having their own business behind them: first of all, "La Bottega Alimentare Italiana"; The perspective is to create a commercial network with local companies, in order to guarantee local and selected supplies. Uncompromising.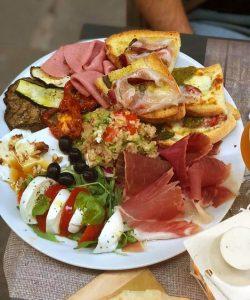 "Thanks to this direct (and human) knowledge of the companies" – says Silvia – "we can see and understand what is really behind the product: families with their unique character and their traditions, where the strong roots of these companies rest, with whom we concert tastings and meetings directly in our restaurant".
The knowledge, therefore personal, of the territory and its production history, from farms to micro-productions of craft products at Km 0, has forged the daring project of DAJE. The choice of the place in via Danzetta (a side street of Corso Vannucci) was wanted to remember the historic food shop that has been there for years.
"Our administration and table service activity, with aperitifs, lunches and dinners combined with the retail sale of products, has been designed as a 'boutique' of food products", explains Riccardo.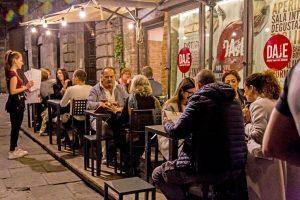 DAJE 'push the supply chain!' has all the requirements of a dynamic and propulsive brand because it combines the true proposal of a typical restaurant with a much wider target: "We deeply believe that the quality of our offer is not only the result of processing and knowledge, but also and above all of the very short supply chain: "Of which our products and our tastings are a close emanation!", Tell.
"We were born on ecological foundations because our guiding principle was precisely to reduce environmental impact. Ours is an ethical profile that follows in all respects the traditional Italian process", they continue, while the discourse and their involvement become pressing: "The Italian food and wine sector has been put on the ropes due to supranational economic dynamics. We believe that the problem is not whether "eat meat or not", "eat cheese yes or no", whether "eat derivatives yes or no", but whether to eat industrial products or not!"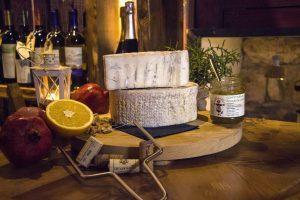 "To understand each other, what you really eat, what really destroys, what really disfigures the economic and natural fabrics, are precisely the industrial processes! How can we talk about high-quality pork butchery, animal welfare and environmental impact if we market sausages whose meat comes from foreign intensive farms – with livestock feeding on feed from other foreign countries, and then being slaughtered in still other states?", they conclude.
DAJE is the trusted shop where to shop but also a warm and welcoming place, both inside the room and on the veranda in the historic alley. Here we can taste glasses of bulk wine or fine bottles accompanied by a platter of cold cuts and cheeses at Km 0, by delicious hot proposals such as soups and polenta on tap (with local stone-ground corn flour), from skewers of plums and bacon flavoured with sage, beef tartare and, delicious and deeply Umbrian, cakes to the gourmet 'torte al testo' (cakes).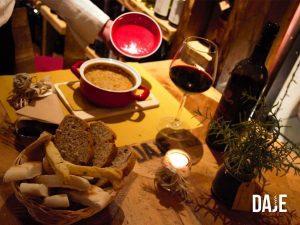 In the spring of 2022 the 'FFFORTE' craft beer project came to life: in addition to the resale of carefully researched products that have the characteristics that the ethics of the "DAJE" requires, Silvia and Riccardo have in mind to produce (through third parties) craft products that meet their directives. The first of these is a line of beers produced by recipe with raw materials that they themselves have on display (Farro, Cicerchia and Roveja).
The FFFORTE craft beer is proposed with types such as MONTELUCE (blonde beer with spelt), La Trasimena (amber 'trubbla' beer with Cicerchia) and La VALNERA (red beer with Roveja).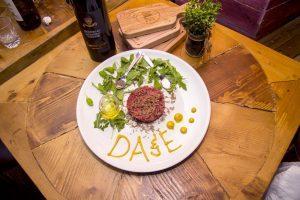 The serene air that reigns at the Daje, on both sides of the counter, is perfectly returned by the spontaneous words of an Argentine friend who, at the end of an evening of work, expressed herself as follows: "He trabajado en muchos bares y restaurantes en Italia y en el extranjero, y nunca he encontrado una armonía tan verdadera y positivo como la que he encontrado aquí … y esto solo es posible si tienes un buen corazón!"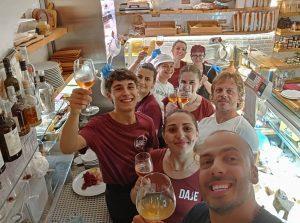 Info and reservations: DAJE Degustazioni, Via Danzetta, 5 – Perugia Centro Storico / Tel. 075 8674275 / 366 5979245