By Alessia Benelli
Locuswomb celebrates two years of activity by launching a new concept brand.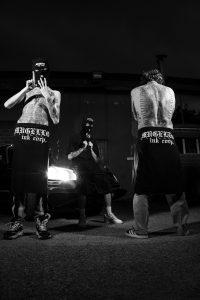 Locuswomb celebrates two years of opening (exactly on October 8th) and has decided to do so by launching a new brand "L/W Mugello ink corp." Locuswomb can be defined as a concept store oriented towards the world of tattooing; but this wording is not correct either. It would be preferable to define it as a concentration of creativity in which the tattoo becomes the common thread of every activity. The 'Locus' is a crossroads of tattoo and piercing artists and fashion, music and graphics creatives, for this reason the founder of the shop/studio in Barberino del Mugello, Massimo Miai, wanted to insert the word corp. (i.e. the abbreviation of corporation).
Locuswomb is a unique place in Mugello and in general throughout Florence and to celebrate this uniqueness the sub-brand was born which contains the name of the area in which it is located, precisely Mugello. The first collection to launch the brand is inspired by American subcultures, the Cholo/Chicano movement (the Hispanic part) and the Trap movement (the modern
continuation of hip hop). By mixing them together you get a combination of "new gangsta trend". The face covered by a balaclava, the visible tattoos and the oversized fits with social impact writings lead the way and recreate overseas ghetto atmospheres in our territory. Such a powerful impact that it goes beyond, becoming pure fashion and denouncing the current movement of "just appearing". In contrast to the dominance of appearance, this tendency is also characterized by covering the face. A trend launched a few years ago by Kanye West and taken up by another international Trap artist, Travis Scott; a trend that is becoming popular and popular even in European fast fashion stores.
This blend between fashion, trends and art is due to the personality of the founder of Locuswomb. Massimo, in fact, has always had a strong passion for everything related to subcultural movements (to be understood as a set of trends that are not shared by the mainstream) in parallel with the glossy ones.
After high school he opened a vintage store and style office, where he did research for high fashion designers. "That experience – recalls Massimo – allowed me to understand the mechanisms and how trends arise". The love for the world of tattoos, however, was love at first sight. "Since I was little I was fascinated by the tattoos of the older ones I saw in the neighborhood where I grew up, then when I turned 18 I ran to get one – he explains -. From there, I started attending Florentine studies. What attracted me most was the artistic technique, but above all the atmosphere that could be felt in the laboratories. What we call the 'studio life', that is, the historical, cultural, social, technical and stylistic research that leads to the actual creation of the tattoo. A search that turns into an infinite journey, which for me is priceless. I had always had a propensity for drawing but I never expected to become a professional tattoo artist, for me it was a magical thing, almost
impossible to achieve".
Today Massimo is a nationally recognized artist and is considered one of the greatest exponents of the style that represents him, the religious one, which he has however adapted to Italian history and culture, renaming it "Italian Religious Tattoo." "I studied for a long time (and continue to do so) to create a style that would distinguish me – he tells us -. I have always been passionate about religious iconography and fascinated by all the symbolism that arises from secret sects and minor movements (which connects to my passion for subcultures). In particular I am attracted by the symbols of the Divine Comedy. I inserted myself into an already existing category, that of black and gray linked to the religious style, but I didn't want to recreate existing designs, I wanted to give them my own recognizability. Sacred art is a constant in our country, it is part of our everyday life. For example, we just leave the house and we come across a tabernacle. I therefore wanted to bring back to the tattoo an 'Italian style' which is often never identified but which has always existed."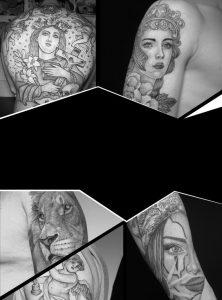 Massimo is a true tattoo professional, in fact his manual skills have also allowed him to specialize in realistic and fineline tattooing. In Locuswomb he has built a 'corporation' of tattoo artists capable of creating every style from the classic traditional/old school, to Japanese, lettering, tribal, realistic, illustrative, graphic style, geometric, ornamental up to to the contemporary with all
its subcategories.
Furthermore, Locuswomb is the first studio to bring together experts in handpoke, that is, the technique that involves making it by hand without the use of a machine. Every year, in June, "Tecniche Imperfette" is organized, a handpoke festival which will reach its third edition in 2024. An initiative made possible by the multifaceted space in which the studio is located. "Here at LocusWomb – explains Miai – I have recreated the environment that made me fall in love with tattoos (taking it to the next and current level), and which I want to convey and share with all those who pass through this space. The festival is a combination of art, tattoo and music that fully represents this concept."
Lots of news ready for 2024 which confirm the flexibility and passion of the tattoo/concept. Among other initiatives, Massimo will launch "Wombcast", a podcast that winks at tattooing but with a contemporary vision, and several seminars will be organized aimed at deepening the technique of the various styles.
At this point all you have to do is stop by Locuswomb on Sunday 8 October to celebrate its second birthday!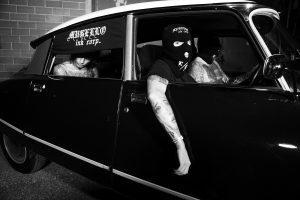 Info: Locus Womb, Via del Lago, 31 – Uscita A1, Barberino di Mugello (Fi) / Tel. 055 19850744 / www.locuswomb.com / Mail: info@locuswomb.com