by Angelo Nai
The history of Edilmonte, one of the most important and structured companies in the field of construction and earthmoving, began in 1977 – 45 years ago – thanks to the foresight of Teobaldo Ciaffarafà who saw enormous potential in the earthmoving sector. The passion of Teobaldo and Silvana – his wife – was immediately passed on to their children Gabriele, Luca and Federica. The first two are the owners of the company, while Federica carries out a significant administrative job in it.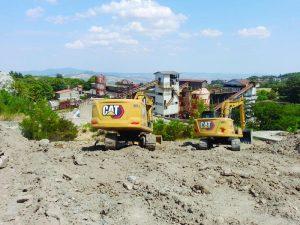 Gabriele begins his story by explaining that: "The company remained family-run until 2008, after which my brother Luca and I entered the company by taking over it in 2013; the firm mainly dealt with construction works, guaranteeing all our customers the opportunity to find a double service at our company" – i.e. both earthmoving and construction works.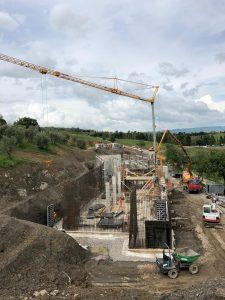 , at the base of the functioning of such a developed company there is the union and understanding between Gabriele, Luca and Federica thanks to which EdilMonte continues to expand by investing in the Amiata area. To date, the company offers work to over 30 people including laborers, administration and technicians, going on to carry out very important construction feats including Gabriele is keen to mention: "Numerous wineries in Val d'Orcia including those in Adler, Gaia and Mastroianni, the maintenance of the Hotel Adler, the Bagnore 4 power plant, district heating in Piancastagnaio as well as the management of a quarry to which we supply inert material".
Gabriele goes on to explain how: "Our company operates in various provinces including Siena, Arezzo, Grosseto, Livorno and at the moment we also have a shipyard on the Island of Elba".
From an entrepreneurial point of view, Gabriele's gaze is projected to the future but without forgetting the past: "At present, I believe that Italy, unlike Northern Europe, it is not yet ready to go directly into green building – especially with regard to the middle class – because it is too expensive, but it is a world in continuous evolution, maybe one day we'll get to that too. However, I believe that a company like ours, which has the possibility of being built in an area like Monte Amiata, cannot help but take into account the innate possibilities that this place offers, so honestly from a natural point of view, the path I think we will go against in the near future will be the use of wood as is already being done in Northern Italy".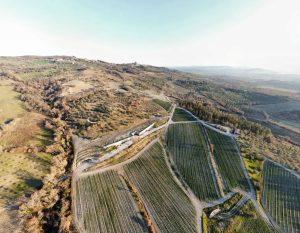 Gabriele continues: "I believe that in any case there is the possibility of making the specific resources of each territory more efficient, Enel's projects come to mind, thanks to which we also have the opportunity to pursue the famous circular economy by extracting heat and using it to have "natural" heating but at lower costs which can offer great competitiveness to companies in the area".
We also address a discourse related to professional figures in which the entrepreneur explains: "In recent years some professional figures are lacking, until a few decades ago thanks to a specific surveyor institute our area represented a flagship. Ours is a sector that will never finish its work and in which exponential job opportunities can arrive, so in my opinion it would be important to return to investing in the training of young people as well".
Gabriele is also part of ASEA and as he tells us: "A network of entrepreneurs is essential for the growth of a territory, for the development of logistics that we certainly need to improve to be competitive on the market; to date I believe that Monte Amiata has enormous possibilities in numerous fields of work but that we also need a communion of intent to progress with infrastructures and services that will bring great growth to our territory".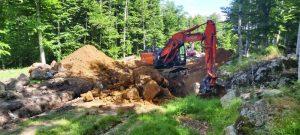 Info: Via Antonio Gramsci, 320 / Piancastagnaio (Si) / Tel. +39 338 845531