By Simone Bandini
Let's go back to our friends of Beautypool, Marco Bindella and Benedetto Rinaldi, with an important news to tell. This time it is their new store in Città di Castello, recently opened in the industrial area, a precious reference for the technical sector of the swimming pool, able to satisfy the most complete and specialized request for materials and accessories.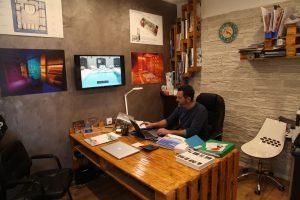 The specialists of Beautypool have been on the market for some years now as a group of professionals able to find efficient and immediate solutions: construction from scratch, renovation, maintenance, coatings, leak research and resolution of the most varied problems: whether you are the owner of a private home or an accommodation facility it does not matter. Their mission is to help you in any case to the best of their ability.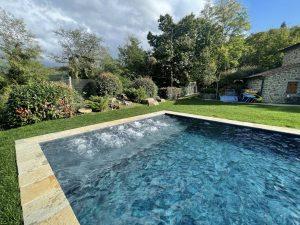 "To complete this service", they tell us, "There was a lack of a physical space capable of hosting the warehouse and a point of contact with the public, to be able to assist our loyal client and all those who need to procure materials, chemicals and accessories for the management of their pool". The shop soon became very useful for the 'do it yourself' and as a logistical support to develop business and relationships, thanks also to the grafting of the new secretary Sonia who takes care of it and manages appointments, inspections and estimates, while the 'operatives' are often out on construction sites.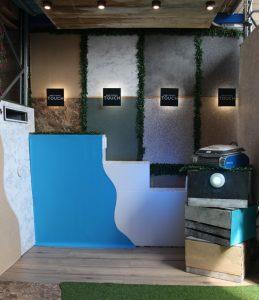 The company has now established itself in Central Italy and beyond. In winter, I remember well and with a touch of healthy envy, to have heard Marco in Senegal, send me 'tropical' photos of the renovation of a swimming pool in a prestigious resort. Last month we met for coffee here in my area, in Florence, where he himself had gone for a project in a villa – near the scenic hill of Arcetri.
But if on the one hand we think about taking work outside the region, on the other we must improve the service offered near the 'parent company'. This is why the Beautypool store was born, which boasts the collaboration with leading companies in chemistry, materials, accessories and plant engineering such as Lapi, Ma.Ri.Pool, C.P.A., Italian Pools and many others.
What about the latest trends from the world of water? The market clearly follows the pro-ecological global trend and the demand for lower water and energy consumption, as well as the use of softer filtering technologies that have less impact on the skin, with the salt and oxygen method, limiting the use of chlorine where possible: "For this reason, we promote the energy-saving pool and other alternative technologies such as the variable speed pump, able to limit consumption in an intelligent way, filtration with pure glass – which unlike sand is inert and does not settle potential colonies of bacteria, for an environmental advantage evident in less washing and complete disinfection", they specify.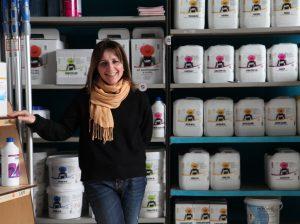 Moreover, salt and oxygen technologies, in addition to presenting significant benefits for the skin, allow a slower aging of the waters and therefore more sporadic treatments and washes. At a time when, for reasons of eco-sustainability, European, national and local regulations are changing rapidly – also in relation to the expected scarcity of water, in certain areas and in particular weather conditions, it is essential to rely on qualified advice both initially and in progress. This legislative force must be mastered, since it can provide, for example, for limitations such as the prohibition of emptying or filling the pool at certain times, the right or not to use water from wells and aqueducts. Thinking of an energy-saving pool, for various reasons, is therefore preferable in many respects. Better to make your own more efficient, if you already have one.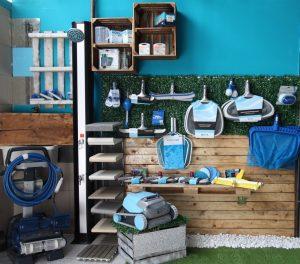 Info: The new store is in Via G. Beccari 30 in Città di Castello / Tel. 376 1516399 / www.piscinebeautypool.com / ufficiobty@gmail.com
For inspections and estimates: Tel. 347 8444144 (Marco) / 333 7154816 (Benedetto)