By Simone Bandini and Serena Lombardi
Il Divò is a sensational, dreamy place, an alchemical temple of the modern art of mixology. It is at the same time inserted in a historical and architectural context of great value – it shares an imposing, ancient stone wall with the Basilica of San Francesco. Between sacred and profane it is a timeless place, a room of wonders, where pleasure and rapture blend with atmospheres of transcendent lightness and where the revolutionary creations of Danny Del Monaco conquer the scene.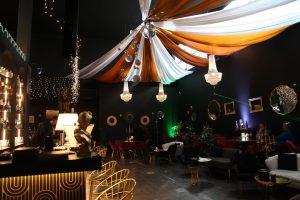 Imagine entering a place that takes your breath away, with golden proportions and considerable size. Imagine the solemnity of its historical vestiges cloaked in a modern and vibrant twist. You are at Divò, the former ancient Galleria Bruschi in Piazza San Francesco, in the heart of the city of Francesco Petrarca. History, cuisine and culture of 'mixology' here come together in an admirable laboratory of taste, combining tradition and creative flair, in a legendary journey of unusual emotions and sensations.
To welcome me together with the publisher Simone Bandini is Danny Del Monaco who certainly needs no introduction; for those who still do not know him he is known as 'The alchemist of drinks', he is an internationally renowned professional expert in the art of cocktail preparation, multiple national champion from 1996 to 2005 in the category barman mixologist and world champion 2002 of Bacardi Martini Grand Prix – as well as creator of 'Cocktail in The World Mixology – Stile di Bere Italiano' (parent company that has been doing events since 1997 in the bartender and mixology world) as well as president of the ' Ancienne Pharmacie' – The first Academy of Speakeasy Made in Italy – exclusive line of liqueurs based in Monte San Savino.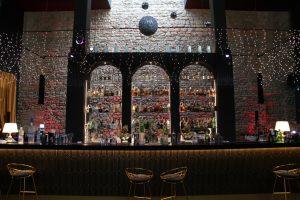 Walking along the majestic and sumptuous corridor, a lounge music in the background kidnaps us inviting us into the large main hall; impeccable décor including sofas, tables, and cushions; The atmosphere is vaguely mysterious, but it becomes less secret thanks to the light points arranged behind the wooden furniture, the mirrors and the spectacular illuminated bottle box that dominates the centre of the room. Everything gives the impression of being arranged in the right place, from the bottle of rare and refined gin to the drapes that descend persuasively above our heads.
We are welcomed by Adrian Everest, mentalist brand manager and partner of Danny who oversees the management – who introduces us to a young team of passionate bartenders who work with great enthusiasm and professionalism. We meet the bar manager and other partner, Lindon Zulbeari – who has been working alongside them in the world of mixology for eight years now."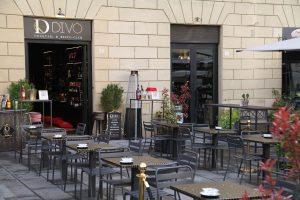 We have this idea of an exclusive 'Cocktail Risto-Club' that reaches the canons of famous metropolitan cities, Italian and European" – Danny tells us – "with a format to live all day, multifaceted and versatile, articulated, chic but at the same time inclusive, designed for everyone, with a high-level food & beverage offer, aperitif, dinner, after dinner, in which to travel a sensory journey through time, in the glass and in the palate… It is an ambitious project that we have been planning for some time".
Just 6 months after the opening of the "Just Cocktail Bar Experience", which took place in May 2021, in the square between the Bastions at the entrance of the historic centre – the non-canonical place with an oriental atmosphere, refined and elegant, has established itself as a reference point for aperitifs in the city, while its creators Danny, Adrian and Lindon designed and thought of an ideal location for this new project. An idea that materialized last autumn, in fact, in the former Bruschi Gallery: "Putting back in force what was the nest of the Arezzo Antiques Fair, the place where half a century ago the event was conceived and organized, was a great challenge, in such a short time!" – Danny tells us – "When I entered the Gallery and saw that wall, knowing that beyond in the Basilica there was one of the highest expressions of Italian and European painting, the cycle of frescoes of 'The Legend of the True Cross', Piero della Francesca's masterpiece, I was overwhelmed by a magical atmosphere and I understood that the room would be 'contaminated' by the same magic and that that wall would give us a mirror protection: Today our restaurant, although crowded, returns the same feeling of recollection of the adjacent church; the strength of the Divò lies precisely in that sacred wall that separates two worlds, but at the same time integrates and unites them, as it is in human nature". The drink list that they present to us demonstrates the concept behind mixing: to test all senses with games of combinations and contrasts, designed and prepared with the highest quality ingredients and processed with technique and skill, with unusual combinations that bring to completion the international experiences of mixing bartenders.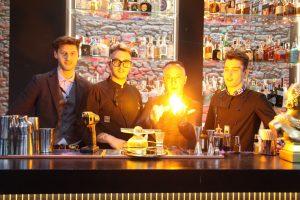 The proposal of cocktails is constantly evolving: it depends on the raw materials used, the season, and the reinterpretation of the classics, with unusual ingredients or processed in an unusual way; It starts from the traditional bases of mixology to reach original creations: variations, sometimes daring, pioneering, introduction of vegetables, fruits and spices. Cutting-edge techniques are used with a new generation of eco-sustainable products: the vaporizer, for example, with small condensers that evaporate the essential oils of the aroma; Then straws of steel or paper, glass cups without traces of lead.
The last drink list, created by bar manager Lindon, with geometric, simple and clean creations, presents "SFERA", a fluorescent drink, served in a glass with globes and cubes and then "APPLE", a twist of the 'American' cocktail, served in a kaleidoscopic glass with a thousand facets: these two drinks are 'alchemist' that can be arranged in several inclinations. The use of black light lamps – which go out when you sip the cocktail – completes the magic.
What should you do? Let them recommend you a cocktail matching perfectly with the chosen dish.
"Create a 'drink list' first and then create the 'food' to match, or vice versa?" – explains Danny – "It's always a difficult task: we can combine a geometric drink, perhaps, with a pyramid-shaped tartare, with avocado, completing with a spray that makes it fluorescent". Pure magic, we are ecstatic.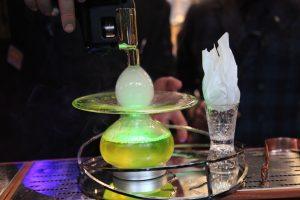 The kitchen is thus coupled with mixology for an all-round experience to live in the same location, with creations designed to surprise and conquer, to spoil guests from aperitif to dinner, from after dinner until late at night.
"We went a long way with mixing but also with the choice of food. Every time we promote an idea, our chefs go to 'dig' into the 70s and 80s, putting the real taste of that generation on the plate" – continues Danny. For this reason we thought, just to mention them, a "Roast suckling pig cooked for three hours at low temperature, served with mojito foam", "Ravioli with Campari powder", an "Octopus served with spicy rice" or a "Tartare with avocado, citrus sauce and oil powder".
"Rediscovering the old flavours, today, is an idea in common to all Italian chefs" – he tells us again: "There are those who propose it in a 'Cracco' key and those who, like us, propose it in a 'Club' key: beautiful, flashy, with flavour. The grandmother's egg, beaten with marsala, becomes a "Crispy egg served with marsala mousse"; 'pennette' with crab meat, accompanied by an 80s pub beer, are transformed into "Paccheri with yuzu sauce and citrus and crab meat".
At Divò it is about having an experience, a journey, of an absolute sensory nature to celebrate the beauty of life itself: an invitation to live every moment with passion, enthusiasm and love.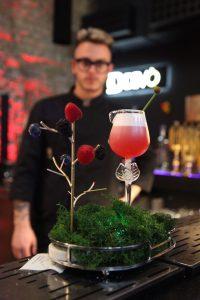 Info: Divò Cocktail Risto-Club, Piazza San Francesco, 1 Arezzo (Ar) / Tel. 0575 494216 / www.divococktailclub.it / info@divococktailclub.com
Recommended listening: "Audrey's Dance", Angelo Badalamenti
https://youtu.be/nITuHzF4ryk