By Jori Diego Cherubini
Everybody on horseback! This is, tout court, the objective of the so-called 'Slow Horse' sports club. It's based on the Grosseto side of Mount Amiata and has been promoting all things equine for some years. We spoke to Marco Cavallo ['horse' tr.]('the name's the game'), founder and heart and soul of a project aimed at all age groups and indeed anyone who wants to delve into this world.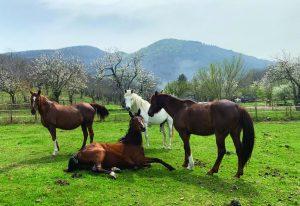 "Our aim  ̶  Marco tells ValleyLife ̶ is to offer ourselves as the go-to place for everything related to equestrian culture, and to constantly emphasize the enormous physical, mental and even spiritual benefits born from the relationship one can  establish with this wonderful animal; it's no coincidence our motto is 'Wellbeing for horses and people'.
Slow Horse is one of the few recognized federated centres in our area, associated with the Italian Equestrian Sports Federation and the ASI Sports Promotion Body: "we are an all year round riding school both for those who want to embark on competitive riding and for those who  ̶  not interested in competitions  ̶  want to get to know a horse and have a special relationship with it. We also organize training courses for those who aspire to base a business on their passion for the equestrian. The centre in fact boasts top-level skills coverage, with all fully certified instructors and guides".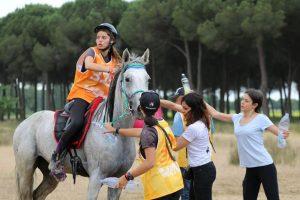 Equestrian tourism
We are lucky enough to live in an area that is perfect for what we do: "the nature here facilitates and inspires trekking; Slow Horse Experience offers slow, eco-friendly tourism, aimed at 'tasting' all aspects of the territory, with excursions into the beautiful chestnut groves and the largest beech forest in Europe, taking charming, less-frequented trails". Our treks, with a maximum of five people ("we can also accomodate larger groups on request"), go up to higher altitudes as far as Macinaie park (at an altitude of 1400 metres); this is a form of tourism that we like to define as "Equusosustainable" (equus, Latin for horse).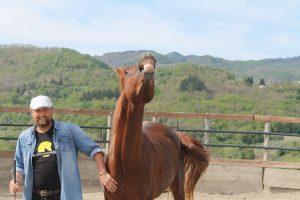 Coaching and personal growth
As already mentioned, the therapeutic and educational value of the horse/human relationship has always been recognized. Marco Cavallo  ̶  in addition to being a certified equestrian instructor, is also a qualified Life Coach and Sport Coach, and has designed various training courses which take the form of four projects called 'Horse Life Coaching': 'The neighing of success', working with schools normally takes place in June, September and October, and focuses on leadership, communication and conflict resolution as well as current issues such as bullying prevention and management. A second project, 'Lady Horse', is aimed at women and consists of a day entirely dedicated to them: through simple and absolutely risk-free ground exercises with a horse participants have the opportunity to take time for themselves and explore their potential in terms of effective communication and empathy. The third, 'Silver Horse', is aimed at clubs that bring together the 'differently young', offering unusual and exciting leisure days which have already had great success. Interaction with horses is a powerful process of exploration of the skills that allow us to live our daily lives in the private,  social and work spheres; working with horses also means working with yourself and the various dynamics that occur in human relationships can be understood by observing the behavior of small herds of horses. This is why the flagship of our association is organizing corporate events for team building and team working, and our 'Un Team al Galoppo' ['a team at the gallop'] represents an opportunity to enjoy fun training days that are at the same time unifying and constructive.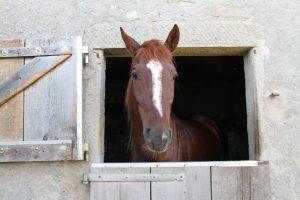 Sport
Marco is a recognised 'Endurance' specialist, this is one of the most widespread equestrian sports in the world, as well as  being Slow Horse's main competitive activity where it has already gained numerous prizes in competitions at various levels: "the competitions consist of endurance races on routes of various kinds over distances that vary from 20 to 160 km; ranking is calculated by various parameters, fundamental being those that check the physical condition of the horse, before and during the race and after finishing the course".
The association mostly has Arabian and Anglo-Arab thoroughbred horses which are constantly worked and whose training makes them ideal partners both for recreational and excursion activities and for the riding school. "We have so much passion for this area and for equids that we have also turned our attention to the world of donkeys, in particular the Miccio Amiatino breed, which we try to improve as much as possible. The Miccio Amiatino is the undisputed star of the historical development of the Monte Amiata villages. The presence, in our area, of several palio competitions (Castel del Piano, Piancastagnaio, and of course the Siena Palio) means that very often grandparents who bring the children to their first lessons ask us "don't forget to make us a jockey" [i.e. a Palio rider, tr.]. This underlines how much the horse is linked to certain traditions in the collective imagination: "if a boy wants to choose this path we support him by giving him all the necessary equestrian basics, but it must be emphasized that, when we talk about 'equestrianism' this refers above all to the conventional disciplines".
Marco started working with horses when he was only nineteen and has never stopped: "I have covered most of the equestrian activities in a transversal way, trying to combine the need to work with a hunger for learning. I have traveled the world, dedicating myself to practically all equestrian specialties (Showjumping, Western riding, Polo…). In 2001, at the end of a job in Texas I arrived on Mount Amiata and, due to a series of circumstances,  I had the good fortune to be part of the competitive career of a beautiful gray mare, who later became an icon of the Siena Palio: Fedor Saura. Today I can count on the involvement of people with a strong passion for horses: in particular my partner Ilaria Fiori, Augusto Cerboni and Filippo Mercuri, as well as, of course, the young people who assiduously participate in our projects. We are real horse people!".
Info: Slow Horse Castel del Piano (Grosseto) Tel + 39 333 7711272 / slowhorseitalia@gmail.com / www.coachingcavallo.it