By Barbara Frau
We are in the small village of Rassina in the heart of Casentino: our appointment is in Piazza Giuseppe Mazzini, at 24. We enter the 'Macelleria Fracassi' where Simone welcomes us into his world. A story that counts four generations while he himself, confident and competent, explains how he interprets, conceives and organizes the profession – with a 'river' of exciting and passionate words.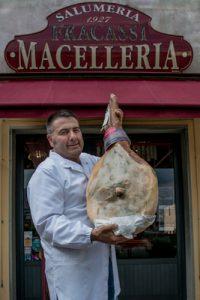 While Simone tells us a little about himself, his words reveal a truly innovative attitude towards his work. He begins to talk about the vocation he has in teaching the youngest: his students are great 'promises of the kitchen' learning the different cuts of meat, understanding the process of seasoning, preparing the counter for direct sale or single portions – such as a wonderful hand-cutted tartare that is perfect for home dinners.
Simone Fracassi, a great expert in butchery, is an internationally recognized point of reference that has had an important media presence: so much so that he has participated in television programs such as "La prova del cuoco" and "Linea Verde"; he has spoken at important cooking congresses in Italy and in the world and has been a teacher in training schools such as the Alma of Parma.
We then focus about the meat supply chain: Simone is a lover of his territory; the farms that provide him exclusively are absolutely local.
From the 'Agricola Mandrioli' farm of Pratovecchio come the delicious livestock of the Grigio del Casentino – Slow Food Presidium – and from the 'Agricola Finocchi' farm of Caprese Michelangelo comes the protected breed of 'White Vitellone of the Central Apennines IGP – Chianina'. I am surprised, listening to him, by his perhaps somewhat old-fashioned way of thinking.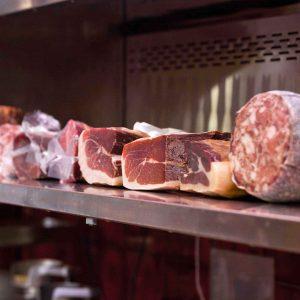 Simone Fracassi does not believe in the law of supply and demand where what the market asks for is made available. He believes in the life cycle, in respect for animals that must eat healthy and live in the wild. The cattle of his farms graze happily in about 450 hectares of land. A real "Relais Chateaux" for animals, as he calls it.
From these convictions starts an instinctive attention to natural feed, such as cereals, produced in the same farms. There are no animals 'bombarded' by antibiotics or chemical feed. The same manure returns to be part of a production chain for the fertilization of the earth. There are some principles on which there is no compromise: order, respect, discipline, ethics and civic sense.
Another strong concept that emerges from our long chat is "healthiness". In the case of meat it is the awareness of its origin (supply chain) and its treatment before and after slaughter.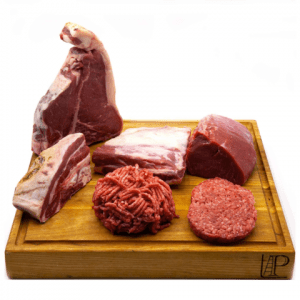 As his grandfather "Ghiaiolo' and father Franco did, cured meats are treated only with traditional products such as garlic, pepper, salt. Adding nutmeg, chilli or even fennel, parsley and lemon depending on the different preparations such as ham, salami or the local 'Culacciona' … There are no other 'antidotes'. With natural treatments, the meat is subject to weight loss with seasoning but it is only in this way that the real "belly satisfactions" arrive.
We notice in its store a series of ready-made products such as meat sauce, black and Chianina stew. These preservative-free preparations are another way to use all meat cuts: "You can't just sell 'tagliate' and fillets," he explains.
Simone Fracassi is aware and convinced that the products he sells are an excellence. The trust of its customers in the catering sector throughout Italy witnesses and confirms their quality.
It goes without saying that in the era of large-scale distribution – the era of supermarkets with their counters dedicated to gastronomy, butcher, fishmonger, delicatessen – people taken from everyday life forget how much a traditional shop can guarantee in terms of quality. Recalling the famous phrase of the philosopher Feuerbach: "We are what we eat", I stop to think: we should care more about the food we put on our tables, we should trust those who respect nature and animals, even at the expense of profit. Better a little – but that little has to be good and, above all, healthy.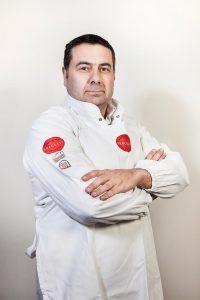 Info: Piazza Mazzini 24, Rassina (Ar) / Tel. 0575 591480 / macelleriafracassi@alice.it