By Simone Bandini and Jacopo Tonelli
An ancient walkway inside the village that opens to the west, where you can admire one of the most beautiful views of the Tiber Valley. As in a painting, it is precisely the backdrops of Piero della Francesca that accompany us to the Osteria "Le Civette"; Luciano Santucci's restaurant that he runs together with Gloria Bazzocchi – partner in life and work – and Nicolò Gambacci, chef of Città di Castello. From them you can have a truly original and exciting experience with traditional and innovative dishes, designed to enhance the flavors and play with the senses in a warm, intimate and modern atmosphere.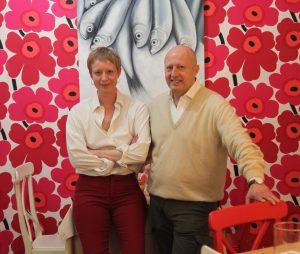 After passing the medieval walkway where in summer one can eat outdoors, by magic we find ourselves inside the restaurant: a well-kept, welcoming, intimate place, furnished with fine art and precise geometry – which go well with the dishes it offers. Luciano has had a passion for catering since he was a child, when he lived in contact with his mother, a hotelier in Citerna, at the Hotel Sobaria, where he grew and developed a young passion for hospitality. And that's where he fell in love with the village.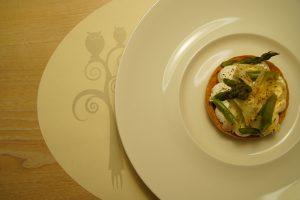 This love for Citerna pushed Luciano, in 2012 and after many jobs – and with numerous restaurant management along the upper course of the Tiber, to give life to his Civette, right in the hamlet of his heart.
This is the spirit of the Osteria, a right blend of history, art, modernity, tradition and spirit of hospitality.
Nicolò, 30 years old, young and experimental chef of the Civette, has put together very well all these procedures and preparations, with a background of important experiences throughout Italy – and in highly qualified restaurants.
The restaurant mainly offers Umbrian cuisine with traditional products but cured and revisited in modern times with cooking techniques and raw materials with an international spark: such as the use of French butters. An important part of Nicolò's cuisine, indeed almost the basis of his dishes, are vegetables, which act as archetypes directs the multiple flavours, colors and geometries.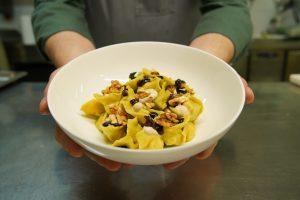 Another important and exclusive peculiarity in the area are the second courses, cooked with unusual breeds but still typical of the rural tradition: birds, game and farmyard animals such as quails and guinea fowls, selected from micro-producers in the area.
For Nicolò, building a dish means eminently creating an experience: placing assonances and contrasts side by side in an aesthetic and sensorial symphony. To make flavours dialogue in a sort of hermeneutic of taste. Dishes with a defined yet open meaning accompanies the guest with an imaginative and varied menu, resulting from a free and elective work between chef and manager. Without forgetting the careful combination of wines able to perfect this gastronomic journey in the ancient village of Citerna.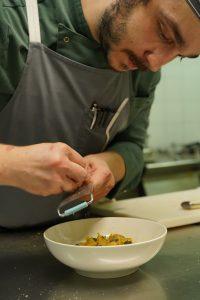 The refined combination of wines and cuisine allows Le Civette to 'serve' a full, complete experience; in fact Luciano has a wide range of Umbrian and Tuscan wineries, mainly small productions, which he chooses and tests – promoting bottles with a more particular taste. So he goes as far as Veneto or Trentino, looking for harmony with Nicolo's dishes and punctually advising the right combination.
Our evening at the Osteria is different from usual. The enveloping atmosphere is magnified by the powerful contrast between history and modernity. Our gastronomic journey into the modern and medieval heart of Citerna begins with a "Parmesan Tartelletta with goat cheese, asparagus and almonds" bathed in a bright and floral "Sauvignon Blanc Sudtirol Doc (2020)", with hints of nettle and sambuca – evident the play of textures and references in the aromatic cusp of asparagus that lies on the goat cheese and is cloaked in toasted almonds.
Our journey continues with a reinterpretation of a classic traditional dish. We are talking about "Cappelletti with Beurre blanc, rosemary powder, black garlic and dried scallop", a symphony that has precise foundations in our rural world but that nevertheless dares, in the avant-garde, showing off an olive caramel and the scent of the sea of dried scallop. In harmonious combination a "Verdicchio di Matelica Colpaola Doc (2021)", very fresh and enveloping as in the character of these Marche wines.
The meat dish is a perfect processing of a farmyard animal that I love – for the combination of lean meat in depth rather than fatty in crust: here is the "Duck breast with red turnip, cherry and radicchio" that Luciano recommends with a red "Ciliegiolo Maremma Toscana Dop La Mozza (2020)" – a precise desire of the cook is to blend the crispy duck in crust and the yielding wild fibers, magnified by the liquid euphonious reduction of red beets.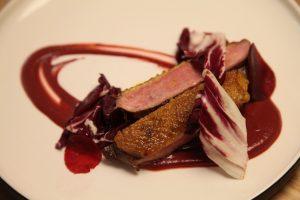 Info: Via degli Steccati 1, Citerna (Pg) / Tel. 075 7828323 / www.osterialecivette.it / info@osterialecivette.it